You may know your stuff when it comes to the history of climate change, but do you know how to make small differences in your day-to-day life to help the environment? Read on for easy ways to go green.
1. By dealing with just a few degrees difference in the summer and winter months, you can save a lot of energy throughout the year (and a lot of money, too).
2. Whenever you replace your old incandescent lightbulbs, do so with compact fluorescent bulbs.
3. Find ways to hack your shower so you spend less time with the water running. You'll help the environment and save on water and heating bills while you're at it. Water is an extremely precious resource and it should be conserved whenever possible.
4. Install an aerator on your faucets, which will conserve water and heat without affecting pressure.
5. Looking for a new pad? Get one that's closer to your job. You can either walk or bike on nice days, or you'll at least reduce your carbon footprint by traveling a shorter distance in your car. Staying put in your current apartment? If you're thinking of a career change, consider working from home.
6. Buy local food whenever possible. When you make purchases from area farmers, it keeps the local economy in good standing.
7. If you can't stand how your tap water tastes, get a water filter instead of guzzling bottles of water every day. If you like grabbing water on the go, buy a couple of reusable water bottles made from aluminum.
8. Dry cleaning releases toxic chemicals into the environment. Next time you go shopping, steer clear of any outfits that are dry clean only.
9. Don't just chuck your old electronics, recycle them. No, people may no longer have a use for your VCR, but when you simply throw it in the garbage, it can create toxins that harm the environment. Dispose of electronics the right way.
10. Make your own non-toxic cleaning supplies at home! You probably already have most of the ingredients in your kitchen – soap, vinegar, lemon, and baking soda, for example.
11. The production of goods uses up a ton of energy. When possible, borrow, buy secondhand, or look for new products that are sold by green companies.
12. Clean power isn't a thing of the future anymore; it's already here. Most people still get their energy from electricity, but there are other options now, like solar power and wind energy.
13. Digitize your life whenever possible to cut down on how much paper you use. Sure, you can use recycled paper, but nothing's more green than not using any paper at all.
Going green is a huge part of today's culture and people are always finding new, creative ways to help the environment. Stay on top of environment-friendly trends to continue learning about how you can protect Mother Earth.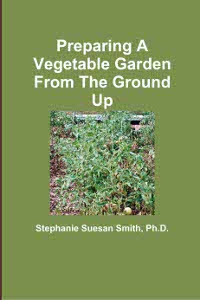 For more help gardening, buy my book, Preparing A Vegetable Garden From The Ground Up

Available in print or ebook from Amazon.com or other retailers, this book walks you from choosing the site of your garden all the way through what to do after the harvest. Buy a copy for yourself or a friend today!
---