One of the best things about growing vegetables is getting to eat them fresh from the garden.  Since I am recipe challenged, I asked Michelle Rocha to contribute a guest post on the subject:
Summer is just around the corner, so everyone is preparing his or her garden. You need to prepare for the future as well, and growing a variety of items for the autumn and winter is a great way to do so, because in today's economy, we need to watch our spending. In fact, more and more individuals are creating produce in their own back yard. Here are three simple recipes that you can create from the vegetables in your own garden, to ensure that you're not only saving money down the road, but also eating healthily! To begin, grow your favorite tomatoes in your garden for this yummy side dish or appetizer.
BALSAMIC TOMATO BAKE
Yield: 4 -8 servings
Ingredients
4 tomatoes – washed and halved crosswise.
1/4 cup Balsamic Vinaigrette
1/4 cup grated Parmesan Cheese
Directions:
Preheat oven to 350 degrees.
Place tomatoes (sliced end up), in a 13 X 9 inch baking pan.
Drizzle Balsamic Vinaigrette over the tomatoes
Sprinkle Parmesan Cheese on top.
Bake in the oven for 15-20 minutes, until tomatoes are soft, and cheese is lightly browned.
Depending upon what part of the country you live in, you can pick up pure fresh maple syrup at roadside stands, grow your own sweet potatoes and enjoy this recipe on a cool autumn evening.
MAPLE MASHED SWEET POTATOES:
6 lb. sweet potatoes
1 stick (1/2 cup) unsalted butter, melted
1/2 cup heavy cream, warmed
2 tablespoons pure maple syrup
1-teaspoon salt
1/2 teaspoon black pepper
Directions:
Preheat oven to 400°F.
Prick each potato twice with a fork and bake in a foil-lined, shallow baking pan. Do so in the lower third of the oven until very tender, usually about 1 hour. Remove and cool slightly.
Halve potatoes lengthwise and scoop out warm flesh into a large bowl. Mash potatoes with a potato masher or, for a smoother purée, force through a potato ricer. Stir in butter, cream, syrup, salt, and pepper.
Preparing for the winter, many are resorting to canning and preserving their own fruits and vegetables. This is not only a great cost-saver, it is delicious.
MY GRANDMOTHER'S SPICED TOMATO PRESERVES
3 c. prepared tomatoes (2 1/4 lb.)
1/4 c. lemon juice
4 1/2 c. sugar
1 box sure-jell fruit pectin
1 1/2 tsp. grated lemon rind
1/2 tsp. cinnamon
1/2 tsp. allspice
1/4 tsp. ground cloves
Directions:
Scald, peel and chop tomatoes. Cover and simmer 10 minutes, stirring occasionally. Measure 3 cups into a 6 or 8-quart saucepot. Add lemon juice, grated lemon rind, allspice, cinnamon and ground cloves to tomatoes. Measure sugar and set aside.
Stir sure-jell fruit pectin into prepared tomatoes. (Saucepot must be no more than 1/3 full to allow for a full rolling boil.)
Bring to a full boil over high heat, stirring constantly. At once, stir in sugar. Stir and bring to a full rolling boil (a boil that cannot be stirred down). Then boil hard 1 minute, stirring constantly. Remove from heat.
Skim off foam with large metal spoon. Immediately ladle into hot sterilized jars, leaving 1/4 inch space at top. With a damp cloth, wipe jar rims and threads clean.
Immediately cover jars with hot lids. Screw bands on firmly. Let stand to cool. Check seals. Store jam in a cool dry place. Yield: approximately 5 cups.
Don't forget that creating fresh ingredient for meals is wonderful for you and your family. You do not have to have a green thumb to grow fresh tomatoes, nor to you have to live in the country. You can grow your own fruits and vegetables almost anywhere, whether it's in a backyard or on a terrace. Cooking healthy is not a costly endeavor either. Just be careful not to plant too many, as this can end up being wasteful, even if you have the best of intentions.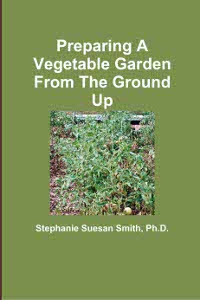 For more help gardening, buy my book, Preparing A Vegetable Garden From The Ground Up

Available in print or ebook from Amazon.com or other retailers, this book walks you from choosing the site of your garden all the way through what to do after the harvest. Buy a copy for yourself or a friend today!
---