Most people have heard of the Black Death, the plague that swept Europe in ever more severe waves from the late 1300s to the early 1400s.  What many people do not know is that bubonic plague is alive and well in North America.  It live in fleas that infest squirrels, chipmunks, rabbits, prairie dogs, and other small rodents.  In fact, Colorado officials are investigating a die-off of prairie dogs in near Boulder right now.
Before you board up the windows and place quarantine signs all around, remember that the plague has co-existed with man for hundreds, maybe thousands of years.    We are a secondary host.  What that means is that  there is yet another reason to not pet wild animals, make them pets, feed them, or tolerate mice and rats inside.
The symptoms of plague, according to the Colardo Health Service, are:
high fever, extreme fatigue and painful swollen lymph nodes. Anyone who notices these symptoms on themselves or on their pet should call their doctor or veterinarian immediately.  Plague can be treated with antibiotics, but this treatment is most successful when the disease can be diagnosed quickly.
If you get sick, it is important to tell your doctor is you have been traveling.  A doctor in an area not known for plague might misdiagnose the problem unless they knew you had just returned from a trip to the four corners area, which always has plague in it.
Dogs do not get the plague, but can carry it on fleas.  Cats can get sick from the plague as well as carry in the fleas.  In this day and age of flea treatments, there is no excuse for having a pet with fleas.
Keeping your pet inside or in a fenced yard is also a good preventative measure.  The less likely the pet is to come into contact with a wild animal, the less likely it will bring home the dangerous fleas.
Squirrels and birds are fun to watch.  Just remember what your mother always told you:  Look but don't touch.  That way, everyone will be happier.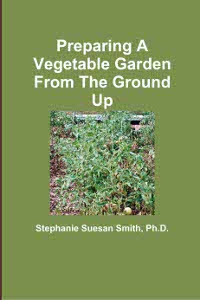 For more help gardening, buy my book, Preparing A Vegetable Garden From The Ground Up

Available in print or ebook from Amazon.com or other retailers, this book walks you from choosing the site of your garden all the way through what to do after the harvest. Buy a copy for yourself or a friend today!
---