My guest author today is Cissy Hunt.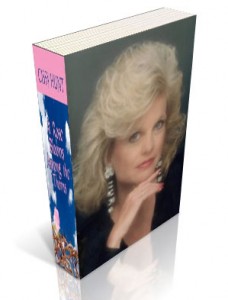 Her book, A Rose Blooms Among the Thorns,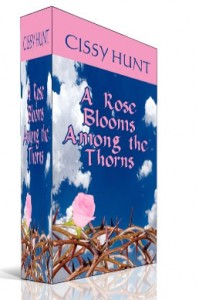 is the story of a woman who changes from a hunted, and haunted, victim of domestic violence to a survivor with a life again.  Domestic violence is a serious problem that is often treated lightly by the authorities.  My mother helped organize the first domestic violence shelter in Arlington and I volunteered (was coerced) in the thrift shop/food pantry that supported the shelter as a teenager.  I did some counseling in a shelter while getting my degree in psychology, then wrote grants for the one in the town where I live for several years.  I have seen firsthand the destruction domestic violence causes.  Emotional and verbal abuse is usually worse than physical abuse, according to the victims I have talked to.  Bruises heal, but the damage done emotionally takes a lot of hard work with some caring professionals to repair.  If you are a victim of domestic violence, or know someone who is, call the National Domestic Violence Hotline at 1-800-799-7233 for help developing an escape plan and a way back to health.
Here is Cissy Hunt on Domestic Violence.
DOMESTIC VIOLENCE
My book,  A Rose Blooms Among the Thorns, is a fictional story about a woman's journey from domestic abuse through healing to forgiveness. This book covers a subject matter that is very close to my heart. The subject matter it covers is domestic violence.
Domestic violence and abuse can happen to anyone, yet the problem is often overlooked, excused, or denied. This is especially true when the abuse is psychological, rather than physical. Emotional abuse is often minimized, yet it can leave deep and lasting scars. Most cases of domestic violence are never reported to the police.
Domestic abuse, also known as spousal abuse, occurs when one person in an intimate relationship or marriage tries to dominate and control the other person. Domestic abuse that includes physical violence is called domestic violence.
Domestic violence and abuse are used for one purpose and one purpose only: to gain and maintain total control over you. An abuser doesn't "play fair." Abusers use fear, guilt, shame, and intimidation to wear you down and keep you under his or her thumb. Your abuser may also threaten you, hurt you, or hurt those around you.
Domestic violence and abuse does not discriminate. It happens among heterosexual couples and in same-sex partnerships. It occurs within all age ranges, ethnic backgrounds, and economic levels. And while women are more commonly victimized, men are also abused—especially verbally and emotionally. The bottom line is that abusive behavior is never acceptable, whether it's coming from a man, a woman, a teenager, or an older adult. You deserve to feel valued, respected, and safe.
Domestic abuse often escalates from threats and verbal abuse to violence. And while physical injury may be the most obvious danger, the emotional and psychological consequences of domestic abuse are also severe. Emotionally abusive relationships can destroy your self-worth, lead to anxiety and depression, and make you feel helpless and alone. No one should have to endure this kind of pain—and your first step to breaking free is recognizing that your situation is abusive. Once you acknowledge the reality of the abusive situation, then you can get the help you need.
There are many signs of an abusive relationship. The most telling sign is fear of your partner. If you feel like you have to walk on eggshells around your partner—constantly watching what you say and do in order to avoid a blow-up—chances are your relationship is unhealthy and abusive. Other signs that you may be in an abusive relationship include a partner who belittles you or tries to control you, and feelings of self-loathing, helplessness, and desperation.
When people think of domestic abuse, they often picture battered women who have been physically assaulted. But not all abusive relationships involve violence. Just because you're not battered and bruised doesn't mean you're not being abused. Many men and women suffer from emotional abuse, which is no less destructive. Unfortunately, emotional abuse is often minimized or overlooked—even by the person being abused.
Understanding emotional abuse
The aim of emotional abuse is to chip away at your feelings of self-worth and independence. If you're the victim of emotional abuse, you may feel that there is no way out of the relationship or that without your abusive partner you have nothing.
Emotional abuse includes verbal abuse such as yelling, name-calling, blaming, and shaming. Isolation, intimidation, and controlling behavior also fall under emotional abuse. Additionally, abusers who use emotional or psychological abuse often throw in threats of physical violence or other repercussions if you don't do what they want.
You may think that physical abuse is far worse than emotional abuse, since physical violence can send you to the hospital and leave you with scars. But, the scars of emotional abuse are very real, and they run deep. In fact, emotional abuse can be just as damaging as physical abuse—sometimes even more so.
Even though A Rose Blooms Among the Thorns is a fictional book it is taken from my own life experiences. I chose to make it fiction rather than non-fiction because I want every woman that has gone through domestic violence to be able to relate to it. I don't want them to just read about another woman who experience domestic violence. I wanted them to read the story and relate to it to be able to make it their own. I also want them to know that another man is not the answer to getting free of their situation — that healing is their answer. They need to be free to seek healing and find their self.  To find who they really are. Jumping into another relationship after domestic violence without healing 90% of the time leads to another abusive relationship. Yet, if they take the time to heal then they can find a new life that does not include domestic violence.
I would like to leave you with this exerpt from my book.
After stepping to the podium, LaRae looked down at the urn
holding Terri's ashes then to the picture displayed on the easel before
looking back up and beginning to speak.
"Terri never made it to true womanhood for she was only nineteen
years old when she died. She will never know what it means to be a
mother or a grandmother because her life was devalued so greatly by
her abuser that it meant nothing to him to take it. Her life was snuffed
out instantly with no thought of remorse because her life wasn't her
own; it had been taken from her. She had become property not a human being.
Domestic violence and emotional abuse are behaviors used by one
person in a relationship to control another. Do you know that every
nine seconds a woman is assaulted and battered in this country, and 5.3
million women are abused each year, and that Domestic Violence is
the single major cause of injury to women, more than muggings and
car accidents combined. Fifty percent of all women murdered in the
United States are killed by a spouse or an intimate partner.
Also, over 500,000 women are stalked by an intimate partner each year. An
average of about four women per day dies because of domestic
violence. So you see on the day Terri died at the hands of her abuser
so did three other women. Three other families in this country lost a
mother, a sister, a daughter, an aunt, or a niece.
Terri Carter is not the first nor will she be the last this town will
gather together in mourning over. I wish she would be the last, I pray
she would be, but until this community starts changing and becoming
aware of domestic violence; there will be more victims like Terri.
Think about it! The next service could even be held for one of your
family members…maybe even one of your daughters."
Here is an exerpt from the beginning of the book.
LaRae's hands trembled as she slowly hung up the phone. She rose from her chair—the caller's mysterious words still fresh in her thoughts. Gazing out her apartment window she pondered over the conversation. The familiar scenery spread out before her as the autumn colored leaves danced about in the breeze. LaRae watched as a slender woman who appeared to be in her middle twenties carefully took the hand of the young girl standing beside her. Before crossing the street below, she waited for traffic to clear and then headed for the same apartment building LaRae has lived in for the past year and three months. She recognized them as the mother and daughter who occupied the apartment below her. Though she kept her own identity concealed from others, not allowing anyone too close, she made it a point to know as much as she could about the people living around her.
Watching the mother and young child brought back memories—memories of when she first left James. Memories that left her frightened and unmistakably void of all emotions except fear. He had treated her like a small child, making her believe she didn't even know how to cross the street by herself without written directions. In time James had totally dominated her life to the point of telling her what to do, when to do, what to wear and whom she could speak with. She was allowed no friends and no contact with anyone outside of James.
In the beginning of the marriage he would give little excuses for why she could not visit with her family or friends. At first, her visits would always coincide with important business functions or he would claim he forgot and made dinner reservations, therefore canceling out any plans she may have had. He started demanding she be home when he called or wanted her home when he was home. Each day he took away a little bit more of her freedom until one morning she woke up to find she had no freedom; she was a prisoner in her own home. That's when she knew she had to escape, no matter the cost she had to get away and find her independence. She had to try and find herself.
FCC Disclosure:  I was given a copy of the book in order to review it prior to this guest post.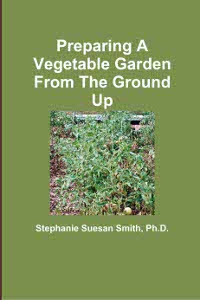 For more help gardening, buy my book, Preparing A Vegetable Garden From The Ground Up

Available in print or ebook from Amazon.com or other retailers, this book walks you from choosing the site of your garden all the way through what to do after the harvest. Buy a copy for yourself or a friend today!
---