Amber, or Mi-Ste Lambda's Amber Wave, as she was officially known, died Friday, December 3rd, 2010 in my arms.  She was in pain and I could not stand to see her suffer.  Enough about her death, here is the record of her life.
When Amber's predecessor, Elizabeth, died, I started looking for another Poodle.  I contacted Dianne Wigelsworth in Florida because her dogs hunted, did obedience, and did conformation.  She had a litter that was born on July 10, 2000, and I told her I wanted a willful, mischievous, intelligent dog.  She sent me Amber in mid September, who was all of those things and more.
As a puppy, Amber had a natural dignity and way about her.  Here she is chewing her ball in the front yard.  Because I did not have many visitors, I took her to the market day of a local food co-op each month so she could play with the children there.  As a result, she was very tolerant of children. My friends joked that Amber had a better social life than I did, what with her play dates.
As a nice, big, furry dog, she was a kid magnet.  Although I discouraged children from approaching her, some always managed to do so.  Toddlers with sticky hands were her nemesis, because then we spent a long time de-sticking her fur.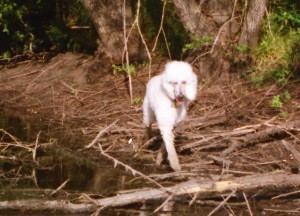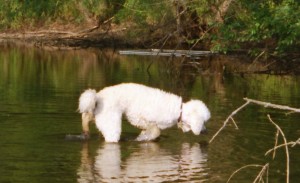 Sometimes, people would come up to us and say they didn't know Poodles got that big.  I went into what my friends dubbed the "German water retriever" speech.  I told them that this is the size Poodles are supposed to be, that they were originally German water retrievers, and that Amber remembers this.  Here is my German water retriever in action.
Amber has always helped me deal with the hearing loss and tendency to fall that go along with hereditary spastic paraparesis.  As these things got worse, Amber began accompanying me when I left the house.  She spent the last four years of her life as my service dog.
A little vain, she loved it when she swept into a room and everyone exclaimed over her.  She hated it when I gave her a bad haircut and everyone asked what she was.  She was absolutely mortified when I gave her a mohawk and slunk around in shame.  I cut that off the same day.  One time someone helped me put her in the classic Poodle cut, but she immediately got it full of burrs and I cut it off.
The last couple of years of her life, Amber suffered from autoimmune thrombosis.  Her immune system would attack her red blood cells.  She was on prednisone for it, which is a harsh drug to take every day.  The last year of her life she had pretty bad arthritis in her spine over her hips.  She took a non-narcotic pain medicine for that.  As it got worse, her will kept her going.  She started that slow descent so familiar, yet dreaded, by every dog owner.
Then her will could no longer flog her body onward.  The pain medicine was not helping enough, and she was miserable.  I did the last loving thing a dog owner can do, and had her put down.  I held her and talked to her as she was freed from a body that no longer did as she commanded.
Should you feel moved to do so, donations to the Canine Health Foundation in Amber's name would be appreciated.  The CHF funds research into health problems found in dogs, how to detect them, how to treat them, and how to prevent them.  The form on that page has a place to put whom the donation memorializes.  Thank you.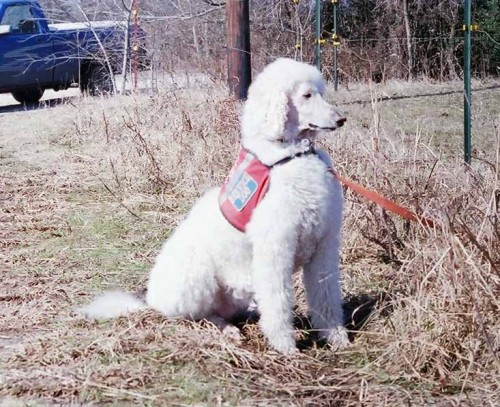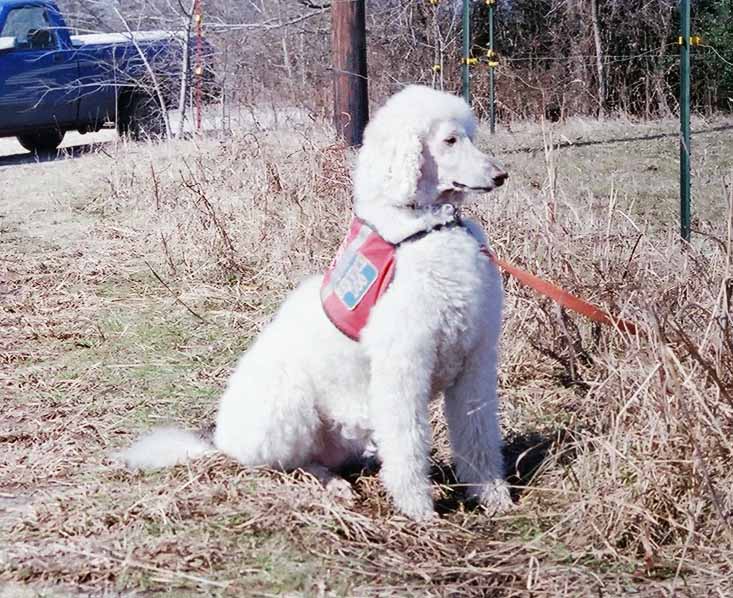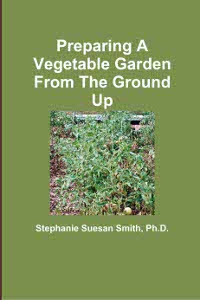 For more help gardening, buy my book, Preparing A Vegetable Garden From The Ground Up

Available in print or ebook from Amazon.com or other retailers, this book walks you from choosing the site of your garden all the way through what to do after the harvest. Buy a copy for yourself or a friend today!
---