Today I am continuing my occasional series of what to do with your garden produce after the harvest.  Gail from Growmap.com has been mentoring me on my blogging skills, so I asked her to answer a few questions on her garden.
Gail, thanks for coming.  What is it you do on the internet?
While I am best known for my GrowMap Small Business blog that shares how to grow businesses and blogs and use Social Media, this year I will finally get PSPLiving, my healthy living blog launched. In it I will share tips like the ones in this interview, how to save time and money, and how to live a simpler, more healthy life. Gardening, produce and whole, living foods will be a big part of what I write about as will explaining how-to for those who have never cooked, baked or gardened.
Sometimes people plant a garden and are a bit overwhelmed with the amount of produce they harvest.  How do you cope with that?
My favorite way is to give vegetables to all those who can use them. Many people don't garden so they are thrilled to get fresh produce. You can also donate food to a church or non-profit. Most cities have people who provide food to those who need it. I have sold tomatoes to a local privately-owned corner grocery store in the past and plan to promote the idea this coming year of using existing coops to distribute extra produce.
Even neighbors who have gardens are often interested in more vegetables. For example, one neighbor's wife bakes zucchini bread so she is interested in all the zucchini because she will bake as much bread as she can. We are rewarded with loaves of zucchini bread (which we eat but which could be frozen). If you like to cook or bake you could take some of your produce and give it away already cooked.
The other thing I do is use vegetables in unusual ways. Greens take a long time to cook, so I make a huge pot (I use a canning pot) so I can have leftovers. The fast easy way to reheat a small amount when eating alone or in small groups is to take some of the leftovers with a small amount of juice, a few pats of butter and some iodized sea salt and heat them in the toaster oven for about ten minutes on bake. Left-over greens drained and chopped make the most delicious spaghetti sauce ever. Just squeeze the juice out of them, chop, and add to your homemade or store-bought pasta sauce. The greens absorb the tomato sauce so be sure to add plenty.
All types of squash are probably the vegetable that produces more than most families can eat or give away. One solution to that is to use them as substitute potatoes. Most don't have a strong flavor so you can bake or boil them, cut them in cubes and use one-third or one-half squash in place of potatoes in your favorite hot or cold potato dishes. One of my favorites is potato/squash salad. (The best solution for too much squash is to only plant a few plants. Give the leftover seeds to your neighbors or seal them in a ziploc bag.)
Another reason people think they have too much produce is because they don't know enough ways to cook it for a variety of tastes and dishes. Two fast ways I prepare fresh vegetables are in a steamer (or while cooking rice in the bottom section and steaming vegetables in the top in a steamer made for that purpose) and grilled in the toaster oven. To grill simply slice and add a little salt, your favorite spices, or some butter, soy sauce, or flavored vinegar (or combinations of any or all of them). Tarragon vinegar is what I usually use but there are many others available. I just put the vegetables on the tray that comes with the toaster oven and grill them for 10-20 minutes until tender.
Do you preserve some vegetables for later?  How?
Many vegetables freeze well so that is an easy way to keep them. When I had a huge old freezer I used to cut them up, spread them on a cookie sheet and freeze them quickly and then put them into freezer bags after they're frozen. I also make a few pickles (but I haven't gotten back into canning so I just make a jar or two to eat right away and put them in the frig). I can eat tons of raw tomatoes but I also cook them into sauces which I usually just use right away or freeze.
Tomatoes are the one thing that can be most easily canned because of the high acid content (so you don't need a pressure canner – just a canning pot with a rack and jars. I would can them but I've been using and giving them away too fast to have enough to do that so far. I really should buy and can more than I do and maybe this year I will. Food prices are going to skyrocket so canned produce could make a huge difference this year. (Start stocking up on staples like flour, cornmeal, rice, pasta and beans too – I seal them in 5 gallon buckets.)
What are your favorite vegetables?
Sweet corn, tomatoes, brussel sprouts for how they taste and collard greens and all kinds of squash for how easy they are to grow and how much they produce.
Are you familiar with Plant A Row for the hungry?  It is a program where you plant an extra row in your garden and donate the produce to a local food bank so the people they help can have fresh vegetables.  If so, have you participated?  Or do you donate your produce in other ways?
No.
Well, it is a good program.  Try it out if you get a chance.  Thank you for coming and sharing your views with us.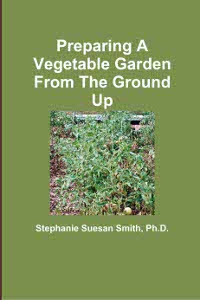 For more help gardening, buy my book, Preparing A Vegetable Garden From The Ground Up

Available in print or ebook from Amazon.com or other retailers, this book walks you from choosing the site of your garden all the way through what to do after the harvest. Buy a copy for yourself or a friend today!
---