I am starting a new series that will appear a couple of times a month on what to do after you harvest your vegetables. Country people have a joke that we lock our cars in the summer because if we don't someone will leave a bag of zucchini squash in them. Having a good harvest is wonderful but sometimes figuring out how to preserve it or use it up is tough.
For my inaugural guest, I have asked Kelli of 3 Boys and a Dog how she gets her children to eat their vegetables. We have all heard horror stories about children refusing to eat vegetables. I remember being stuck at the table long after supper until I finished mine. Kelli has had better luck with her children.
Kelli blogs about her boys, her dog, home schooling, reviews things of use to families with children, and is supportive of her fellow bloggers, even newbies such as me.  Here is her take on vegetables.
Sometimes people have difficulty getting their children to eat healthy vegetables. How have you gotten your boys to eat their vegetables?
Honestly, my boys have never been a problem. They like vegetables. When my oldest was very little we knew the horror stories of kids not eating veggies, so we made a game out of them. Well, I guess you would call it a game… we had cute names for things and still continue to call them that.
EX: Broccoli is called little trees and they feel like Giants eating trees. J Corn is called Gold Nuggets and that is how we get rich. Popeye helped us to force Spinach down them. 😉 Carrots are fun because they get to dip them in Ranch Dressing.. Cauliflower obviously Snow Covered Trees
What are their favorite vegetables?
I would say Corn and Broccoli
Would you share a favorite recipe that you use to serve healthy vegetables to your family?
Hmmm, not very healthy, but my kids love Chicken Broccoli Casserole
Thank you, Kelli, for some fun ideas on getting your kids to eat their vegetables.  Now if we can just find some for the adults, we can find homes for all this squash!
What recipes do you enjoy that use vegetables?  Any tips for feeding them to kids?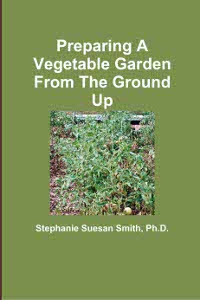 For more help gardening, buy my book, Preparing A Vegetable Garden From The Ground Up

Available in print or ebook from Amazon.com or other retailers, this book walks you from choosing the site of your garden all the way through what to do after the harvest. Buy a copy for yourself or a friend today!
---