Anthracnose is a fungal disease that will ruin your tomatoes in warm, moist weather.  It leaves in the soil and gets on the plant when you water it and splash soil on the plant.  The disease doesn't do much to leaves or green tomatoes, but causes a rotten circle in ripe ones that can take a beautiful fruit and turn it into a rotting mess in a few days.
The circle begins with the fungus reproducing in a small circle on the fruit under the skin.  This causes a soft, indented spot on the tomato.  Within a few days the spot is black with fungus spores and may ooze a pink substance.  The skin is broken and the fruit rots.
Prevention on anthracnose is simple.  Don't water from above and splash water and soil on the leaves.  Water from below with drip irrigation or a soaker hose.  If you must water from above, apply a layer of mulch around the tomato plant to protect it from the soil and fungus spores.  You should also wait three years between planting tomato and pepper plants in the same spot to give the spore time to die out.
What do you do if you have anthracnose?  You can start harvesting your tomatoes as soon as they show any red and let them finish ripening in the window sill.  You can also spray a fungicide in your tomato patch to kill the fungus if it is very bad.  Make sure the fungicide you use is approved for use on tomatoes and follow label directions.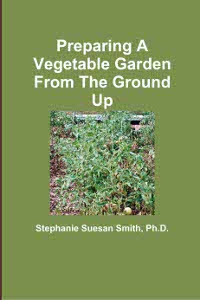 For more help gardening, buy my book, Preparing A Vegetable Garden From The Ground Up

Available in print or ebook from Amazon.com or other retailers, this book walks you from choosing the site of your garden all the way through what to do after the harvest. Buy a copy for yourself or a friend today!
---