Okra thrives in Texas.  Originally from Africa, it loves our heat and bears through the summer when everything else has just up and died.  Unfortunately, about the time the okra is really producing, the fire ants find it.  They set up a bucket brigade of one ant bite size pieces and can strip the fruit right off an okra plant before moving over to the next one.
Nothing is more satisfying than killing fire ants, but most contact poisons labeled for fire ants cannot be used in the garden.  They make people sick, too.  Even the old standby, Sevin Dust ® cannot be used within seven days of harvest, in most cases, and longer in some.
What to do?  Well, you can usually follow the trail of ants away from the okra and find that the actual nest is beyond the perimeter of the garden.  That makes drenches on that mound fair game.
Even if the nest is inside the garden, most ants forage 20-40 yards beyond the nest.  If you spread a band of fire ant bait along the outside perimeter of the garden, and extending out 10-20 yards, at the recommended rate of spread, you stand an excellent chance of killing the nest.  Bait does take about six weeks to kill a nest, but will do so.
A relatively new insecticide, spinosad, is labeled as a drench for inside the garden in some formulations.  This will kill the ants relatively quickly.
In the meantime, try picking the okra first thing in the morning and last thing at night.  Ants forage at night in the hot summer, so don't leave them anything to find when they come calling.
Finally, controlling ants in the area surrounding the garden by regular application of bait (as directed on the product label) will keep them from ever breaching the garden perimeter.  Bait spread at the recommended rate does not pose a significant threat to the environment and fire ants certainly do.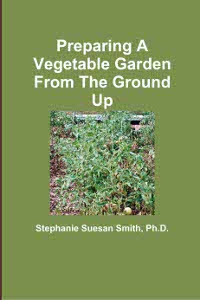 For more help gardening, buy my book, Preparing A Vegetable Garden From The Ground Up

Available in print or ebook from Amazon.com or other retailers, this book walks you from choosing the site of your garden all the way through what to do after the harvest. Buy a copy for yourself or a friend today!
---