Aphids are the bane of both vegetable and ornamental growers. A few winged aphids show up, drop off the kids (larvae), then move on, leaving your plant to babysit. The larvae and adults feed by sucking plant juices from the leaves. They reproduce until the plant is overcrowded, then a few aphids develop wings and the process is repeated. One plant with aphids can end up infecting an entire house or greenhouse.
In most cases, aphids are just nasty looking and the plant does not thrive. However, aphids secrete what scientists call "honeydew", which is a sticky substance that ants love. Sometimes ants will "farm" aphids for the stuff. The ants protect the aphids and the aphids feed the ants.
There are two cases where an aphid infestation is more than cosmetic. The honeydew will allow sooty mold to grow on the plant, further stressing it. The other thing is that aphids do not brush their teeth between plants. So, they may carry viruses that infect and kill the plant with one bite.
Control requires vigilance. Check your plants weekly for problems. You need to especially check the underside of the leaves, an aphid's favorite place to be. If you find aphids on more than 5% of a plant, you need to treat the plant with a contact pesticide. This means the pesticide has to touch the aphid to kill it. As an aside, Sevin® Dust does not kill aphids.  Since pesticide licensing laws vary, you will have to check with your local Extension Agent for exact recommendations on what will kill them.  Lady beetles and lace wings also eat aphids.  Make sure whatever you treat the aphids with doesn't kill the good bugs.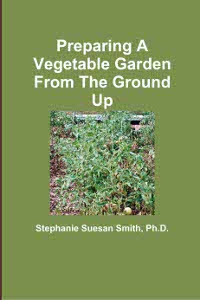 For more help gardening, buy my book, Preparing A Vegetable Garden From The Ground Up

Available in print or ebook from Amazon.com or other retailers, this book walks you from choosing the site of your garden all the way through what to do after the harvest. Buy a copy for yourself or a friend today!
---