One of the ways to reduce pesticide use in your garden is to attract beneficial insects to it. These insects keep the bad bugs in check. A good way to do that is to interplant flowers in your garden. The flowers then act as shelter and food places for the beneficial insects, who will move to your vegetable plants to eat their natural prey when they present themselves. If you do interplant flowers in your garden, be careful never to spray them. That kind of defeats the purpose of having them. You can also make a border of flowers around your garden to attract these beneficial insects, but it is more effective to interplant the and make a border.
Here are seven flowers that make good border or interplant candidates:
Bachelor's Buttons (cornflower)
Sweet Alyssum (Lobularia maritima)
Borage (Borago officinalis)
Cup Plant (Silphium perfoliatum)
Anise Hyssop (Agastache foeniculum)
Golden Marguerite (Anthemis tinctoria)
Fennel (Foeniculum vulgare)
There are many more candidates, of course.  These plants just provide a lot of shelter, nectar, and other food for beneficial insects that attracts them to your vegetables.
What about buying beneficial insects such as lady beetles, lacewings, and other critters sold by some catalogs?  Well, that is an expensive way to go.  You can just plant plenty of flowers, including the ones listed above, around and in your garden and attract the beneficials naturally.  The benefit of that is the beneficial insects appear when the bad bugs get out of hand.  If you buy beneficials and stick them in your garden, they may not have enough food to stick around at the time you place them there.  Then you have wasted your money.  So save the money or spend it on flower seed.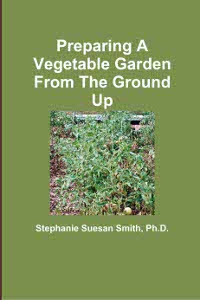 For more help gardening, buy my book, Preparing A Vegetable Garden From The Ground Up

Available in print or ebook from Amazon.com or other retailers, this book walks you from choosing the site of your garden all the way through what to do after the harvest. Buy a copy for yourself or a friend today!
---