Hummingbird gardening is very popular right now.  As mentioned in another post, honey bees have supplanted many native pollinators.  Fortunately, they have not taken as many flowers away from the hummingbird.  A hummingbird has a long tongue inside the long beak, so they can reach deep inside flowers bees can't get into.
Hummingbirds have very high metabolisms and have to eat a lot of sugar rich nectar to stay warm and alive.  The feeders people put out help hummingbirds eat a full day's calories.  However, planting flowers that attract hummingbirds is better for them.  It is also less messy for the humans — that syrup is sticky and attracts ants.  If you do use syrup feeders, the ratio is one cup of sugar to four cups water.  Do not use food coloring as it makes the birds sick.  Similarly, use regular white sugar because anything else if too rich and makes the birds sick.
Flowers that attract Hummingbirds tend to be big and have a long throat, shielding the nectar from bees, wasps, and other creatures.  Only the hummingbird's slender bill and tongue can sip the nectar.  For extra protein, especially when feeding babies, spiders and other anthropoids are eaten.  As the hummingbird feeds, it gets pollen on it which is deposited on the next plant, making it possible for the plant to produce fertile seed.
What do you plant?  That depends on where you live.  There are some 150 plants in North America that are used by hummingbirds as food.   Birds and Blooms lists 13 hummingbird attractors along with the zones the plants live in and what they look like.  There are other lists of hummingbird plants out there.
Foxglove is on several lists.  It is a pretty but deadly plant with the characteristic long narrow neck leading to the nectar.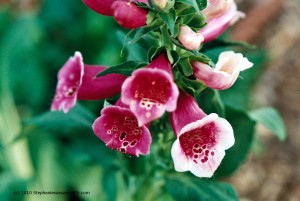 Azaleas, lilies, and similar flowers are also good to plant.  Butterfly bush attracts hummers, as does flowering quince.  Bee balm, hostas, the list goes on.  If you are confused, try a vendor that sells a mix of seeds or plants that attract hummingbirds.
Wildflower Farms has a butterfly/hummingbird seed blend that will grow most places in the United States.  Many other seed companies do as well.  There are even some that sell plants you can transplant into a complete garden.
One important thing to remember is not to use pesticides on these plants.  Hummingbirds brush against the plants and can be poisoned when feeding.  In addition, they need to eat the little creatures on the plant for additional protein.  An organic garden is your best bet when trying to attract hummingbirds.
One final note:  Hummingbirds are feisty.  It is not unusual for them to guard a feeder and defend it against all comers.  If you want lots of hummingbirds, place multiple feeders and lots of plants out.  That way, no one bird can guard them all.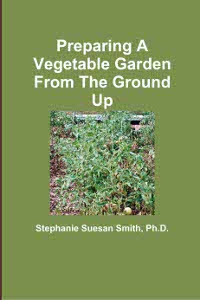 For more help gardening, buy my book, Preparing A Vegetable Garden From The Ground Up

Available in print or ebook from Amazon.com or other retailers, this book walks you from choosing the site of your garden all the way through what to do after the harvest. Buy a copy for yourself or a friend today!
---