Deer are portrayed in the media as noble creatures that we might catch a glimpse of if we are worthy.  In many areas of the country, deer are big rats, eating every plant in existence and leaving bare nothing behind.  Since they like tender forbs and the tips of plants that puts them on a collision course with gardeners, especially vegetable gardeners.
There are lots of purported remedies, but little backed up by research.  Planting things deer do not like to eat helps, unless it is a drought or there are so many deer in a given area that their preferred food is gone.  Then they will eat anything to survive.  Let's face it, there are not too many vegetables on the "don't like" list, either, so that is not much help.
There are various vile concoctions that are supposed to repel deer if spread around.  Most contain raw egg, so really should not be used on vegetables or vegetable plants.  Nothing like salmonella to spoil a meal.  This is especially true since research has failed to find any of these things effective.  Even the people who use them say they lose effectiveness over time.
Next, we have scare techniques and devices, just in time for Halloween.  Most devices, such as pie pans hanging in the garden, work at first.  Then the deer get used to them and come eat.  One thing that has shown promise is the motion activated sprinkler.  This sprinkler is activated when something moves across its' sensor and sprays a brief high pressure burst of water at the object.  The nasty shock of water hitting them out of no where seems to send deer fleeing.  Because they cannot see the attacker, they do not get used to it as fast.  Moving the sprinkler around periodically helps with that.
Finally, we have the old standby, the fence.  Deer can, in some cases, jump an 8 foot fence.  Your fence doesn't need to be that tall.  It simply needs to be tall enough to make the deer go elsewhere.  You can buy 7 1/2 foot plastic deer fence that acts as a barrier to the deer but is invisible from very far away.  That way the fence does not mar the landscape quite so much.  If the space inside the fence is small, the fence can be shorter.  Deer do not like to take off and land in small spaces, Rudolph not withstanding.
Deer are a tough animal to keep out of your garden.  Fences or motion sensitive sprinklers seem to be the best option. Here is an affiliate link to one such system.
Guardener Motion Activated Animal Repeller

says you can protect your garden and flowerbeds from unwanted animals using the Guardener repeller. This device is motion activated and will deliver both an ultrasonic warning sound and burst of water to keep your garden safe. Unlike other water deterrent devices, the Guardener does not require a hose connection. The Guardener has a reservior tank of 3.5 gallons eliminating the need for constant refilling. A solar panel keeps the Guardener charged and ready. This device can be used to deter deer, raccoons, rabbits and many other animals. One year limited warranty. Device measures 12″X12″X23″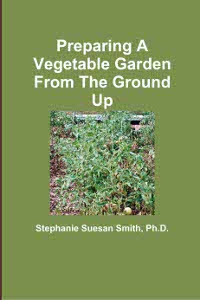 For more help gardening, buy my book, Preparing A Vegetable Garden From The Ground Up

Available in print or ebook from Amazon.com or other retailers, this book walks you from choosing the site of your garden all the way through what to do after the harvest. Buy a copy for yourself or a friend today!
---