Do you have one of those little kitchen compost pails someone gave you but have no idea what to do with the contents when it fills up?  Are you afraid you don't have the stomach to make manure tea?  Confused about composting?  I can help with that.
Composting is simply farming micro-organisms in a way that they break down organic stuff you are through with into nice, rich humus.  No, not that spread people put on pita bread, but humUs.  That is the rich organic part of soil.  Plants love it.
Composting used to be part of life.  Manure and straw were piled up with the remains of the kitchen, plants that were spent, and any other organic debris and allowed to cook into humus so the fields could be fertilized with it.  No synthetic fertilizers, so farmers made their own.
Now, however, lawn clippings, leaves, and other compostable things account for up to as much as 50% of the trash coming into the landfill.  We are running out of room for landfills.  We need to recycle our organic matter just as we recycle our aluminum cans.
I realize that most city people do not have access to manure.  However, you can pick a corner of the yard and build a 3 X 3 X 3 container with no bottom.  That is the compost bin.
Into it you deposit a 3 inch layer of leaves, then a 3 inch layer of grass and kitchen scraps.  No meat, dairy, or used oil as that attracts scavengers.  Then put another 3 inch layer of leaves and repeat until the container is full.  Water the whole thing enough to be damp but not soggy.  If you do this starting in the spring and summer, the compost will be ready for the next spring.
If the compost is ready, it will be dark brown, crumbly, and you will not have any lumps that are identifiable as what they were before they became compost.  You may find that you produce enough organic material to need multiple bins.  That also has the advantage of letting one or more bins cook while you use the first bin.
This just scratches the surface of composting.  I recommend the article on Aggie Horticulture on composting as a more thorough treatment of the subject.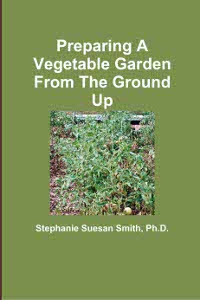 For more help gardening, buy my book, Preparing A Vegetable Garden From The Ground Up

Available in print or ebook from Amazon.com or other retailers, this book walks you from choosing the site of your garden all the way through what to do after the harvest. Buy a copy for yourself or a friend today!
---