Articles on bird houses usually focus on the importance of putting up nesting boxes for various species so that they have a place to reproduce. This is important. However, bird houses do not have to be the same old bluebird box in the back yard. Take a look at this birdhouse. It is a martin house at the Fort Worth Botanical Gardens, in the Japanese Gardens. The Pagoda fits right in with those surroundings.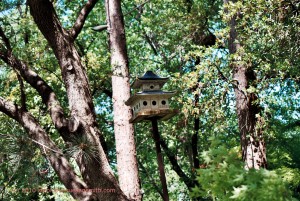 There are three essential elements to a nesting box, whether it be for a bird, bat, or mammal. The first is the cavity size. Creatures need a certain amount of room to raise their young comfortably. Too big and it is hard for the momma to keep the babies warm. Too small and she doesn't have room to have the babies, or lay the eggs, and keep everybody at the right temperature. In certain climates, such as Texas, venting is more important so things do not get too hot. In others, tight construction is more important so things don't get too cold. In all climates, shelter from rain and other bad weather is important.
The second important aspect is the size of the opening into the nest box. Obviously, if it is too small the momma cannot enter to use the box. But if it is too big, predators and non-target species can get in. For example, bluebird houses need a specific opening size. Any bigger and other birds get in and use the box. Also, big openings can let in rain and let out the warmth the babies need.
Finally, the box needs to be placed in the correct place for the species you want to live there. Some boxes need to be three feet off the ground, some five, and martin houses need to be pretty high. If a bird prefers their boxes isolated on a pole, you won't get many customers if you nail it to a tree. The reverse is also true. A box on a pole stuck in the middle of the pasture will not attract a bird that nests in the woods or on the edges of habitat. There are lots of books out there that detail how to build bird boxes. Most focus on songbirds. Owls, hawks, and eagles need places to nest, too. You can even build boxes for mammals such as racoons and other cavity nesting mammals.
The following resources have free information on how to build nest boxes and where to put them. Remember that you do not paint these, but build them of rot resistant wood such as cypress or cedar. Boxes need to be maintained, too, and checked yearly to do any maintenance, clean out last year's nests, and kill wasps or other insects that have made homes in them. For a wide variety of wildlife boxes, check out the North Dakota manual at the Northern Prairie Research Center . It also includes information on where to put the finished box so it is most likely to be used. The Cornell Lab of Ornithology has a wide range of information on nest boxes and habitat. You can sign up to participate in ebird, which is electronically registering your observations of bird species on your land, nest watch, which is doing the same for nests, the feeder bird count, and other activities. Finally, there are a number of commercial sites that will offer plans for free or for a fee. Make sure you get your plans from someone who understands what they are doing, or the birds will not use them. Lastly, as long as you maintain the basic design, you can embellish it a bit. Beware of putting perches on the front of the birdhouse, however. That encourages English sparrows and gives predators a place to perch while they fish the babies out to eat them. Now go get some wood and get to work!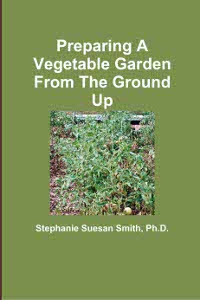 For more help gardening, buy my book, Preparing A Vegetable Garden From The Ground Up

Available in print or ebook from Amazon.com or other retailers, this book walks you from choosing the site of your garden all the way through what to do after the harvest. Buy a copy for yourself or a friend today!
---