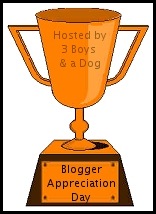 Do you appreciate the blogs that refer traffic to your blog enough?  Kelly at 3 Boys & a Dog encourages other bloggers to publicly thank the blogs that referred the most traffic to them each month.  Blogger Appreciation Day is a time to list the top ten referrers from the last month in a post.  This month, if you do so by August 31st for July's referrers, you can be entered into a contest for a month of free ad space on her blog.
I have to say writing this post was eye opening.  Most of my referrals come from sites, not blogs, so I will have to work harder at cultivating my relationships with other bloggers.  I have managed to round up ten blogs that refer visitors, though.  So, with no further ado, I wish to thank my Top Ten referrers for July:
1.  Kelly at 3 Boys and a Dog is next, with 29.  Thanks, Kelly.  She has a nice giveaway site you should check out.
2.  Andy at ComLuv.com sent over 19 visitors.  I was part of the ComLuv/Famous Bloggers blogging contest and it stretched over July.
3.  Coincidentally, Famous Bloggers sent over 18 visitors.  My first contest post on the quest for comments appeared on Famous Bloggers.
4. Gail at GrowMap sent me 7 people.  GrowMap is a great site on how to grow your business in an ethical manner.
5.  Michelle Rafter at WordCount sent me a couple of people.  I really enjoyed her May Blogathon. Her last Wednesday of the month twitter chats focus on different aspects of freelancing.
6.  Murry Newlands blogs about social media and affiliate marketing.  He was kind enough to send me a couple of people, as well.
7.  Caroline Clemmons, who writes some wonderful historical romances, sent me one visitor.
8.  Cate Masters, also a romance writer, sent me another visitor.
9.  Ecosystemgardening.com is a blog about gardening to better the ecosystem.  She sent me one visitor.
10.  Kristi at Kikolani.com sent me one visitor.  She has a wonderful Fetching Friday mashup of SEO marketing and general blogging tips.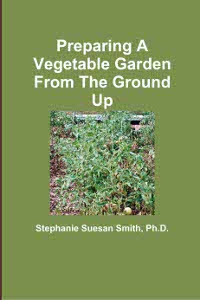 For more help gardening, buy my book, Preparing A Vegetable Garden From The Ground Up

Available in print or ebook from Amazon.com or other retailers, this book walks you from choosing the site of your garden all the way through what to do after the harvest. Buy a copy for yourself or a friend today!
---