It is time again for Blogger Appreciation Day, a day to thank those who send traffic your way the preceding month.  Kelli at 3boys and a Dog is organizing the linky for all who participate.
Most of my traffic comes from searches, not referrals.  However, there are some important blog sources as well.
1.  Donna Fontenot at DazzlinDonna.com referred the most people, at 18.  Donna is an SEO coach and all around nice person.
2.Gail at GrowMap referred 13 people to me.  She is really helpful if you want to grow your business and learn social media marketing.
3. Patricia at Lavenderuses.com referred six people to me.  She is growing organic lavender down under and has a lot of interesting information available on her site.
4.  360skeptic referred four people to me.  I was in the Carnival of Evolution hosted on his site in September.
5.  Chiotsrun.com sent me three people.  I made some comments on her posts about organic gardening.
6. CollectinTexasGal.blogspot.com also sent me three people.  She has some beautiful photographs of Texana on her blog.
7.  Kikolani.com sent me two people.  Kristi Hines is an Internet Marketing Specialist and Kikolani is her blog.
8. MurrayNewlands.com sent me two people.  Gail did a very kind profile of me as a blogger who was improving rapidly.
9.  Melinda at SimpleHomeOrganization.com sent me two people, as well.  I wish she would send someone to practice the art of simple home organization on my home!
10.  TycoonBlogger also sent me two visitors.  Have you checked out the rookie blogger contest he is running now?
Thanks to everyone who send me traffic this month.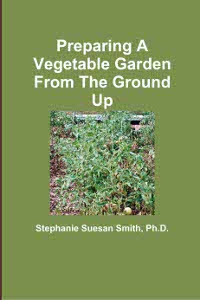 For more help gardening, buy my book, Preparing A Vegetable Garden From The Ground Up

Available in print or ebook from Amazon.com or other retailers, this book walks you from choosing the site of your garden all the way through what to do after the harvest. Buy a copy for yourself or a friend today!
---