It rained a couple of weeks ago, and has been hot and muggy since then.  With the humidity so high, I am getting a lot of calls about tomatoes that are big and beautiful, but get a black spot.  That black spot starts on the blossom end of the tomato and travels toward the stem end.  Lightly infected plants have a few black spots.  Heavily infected plants turn into black mush.
Blossom end rot is not unique to tomatoes, but it causes more trouble in tomatoes.  Basically, it is an electorate imbalance involving calcium.  Before you run out and get some calcium for your tomatoes, though, you should know it won't help. What will help is you watering practices.  Nine times out of ten when I ask about watering their garden, they tell me they water by hand.  'This splashes soil on the tomatoes and spreads the disease.
There is no cure for blossom end rot one it starts.  It is important to pick the tomatoes with problems and trash them as soon as you see them.  This helps keep the problem from spreading.  There are two other things you can do about this problem.  Use a soaker hose or drip irrigation to water so you do not splash soil on your tomatoes.  Put three inches of mulch around your tomatoes.  This kept them from touching the ground, but also serves to keep soil from splashing up and infecting them.  Mulch also conserves water.  Make sure there is enough space between your plants so that air and sunlight can penetrate.  Follow these suggestions and you should have minimal problems with blossom end rot.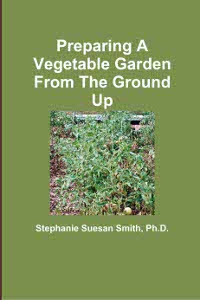 For more help gardening, buy my book, Preparing A Vegetable Garden From The Ground Up

Available in print or ebook from Amazon.com or other retailers, this book walks you from choosing the site of your garden all the way through what to do after the harvest. Buy a copy for yourself or a friend today!
Bl
---