One of the fruits of the Junior Master Gardener movement is research showing children will eat vegetables they grow, even when they will not eat any other vegetables.  Anything that gets kids interested in math, science, nutrition, and physical fitness is a good thing.  While this book deals with wildscapes, not vegetable gardens, it helps get small children interested in where plants come from and how they grow.
Planting the Wild Garden, by Kathryn O. Galbraith and illustrated by Wendy Anderson Halperin, is a beautifully illustrated book.  I recognized the seeds and plants and they were drawn true to life.  In fact, the end papers are covered with seeds and plants, inviting discussion of what plant each seed comes from.
Galbraith has written a lyrical book that accurately describes the way meadows are perpetuated.  Wind, rain, animals, birds, and people are all used as ways seeds are carried to their final destination.  Children are reminded that everything planted the meadow.
I liked this book.  It looks like the sort of book read by a librarian to a cluster of children while holding it so the pictures are visible.  In fact, it is aimed at ages 4-8 years, or preschool through third grade.  If you have children in that age range, consider getting them a copy.
Planting the Wild Garden
Kathryn O. Galbraith, author
Wendy Anderson Halperin, Illustrator
ISBN 978-1-56145-563-8
Publisher:  Peachtree Publishers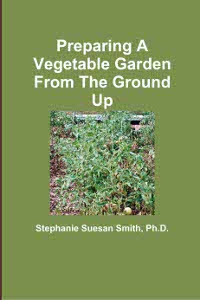 For more help gardening, buy my book, Preparing A Vegetable Garden From The Ground Up

Available in print or ebook from Amazon.com or other retailers, this book walks you from choosing the site of your garden all the way through what to do after the harvest. Buy a copy for yourself or a friend today!
---