Shattered: Struck Down, But Not Destroyed by Frank Pastore (May, 2010) Tyndale House Publishers. ISBN 978-1-58997-611-5
Frank Pastore's pitching career was going great guns. Then a line drive shattered his pitching elbow. In seconds, he went from the top of his profession to the bottom .
From the cover blurb:
Cincinnati Reds pitcher Frank Pastore stepped onto the mound in Dodger Stadium to throw another fastball – something he'd done thousands of times since childhood. But this one time was different. The batter connected and the ball came rocketing back to the mound, shattering not only Frank's pitching elbow – but also his dream of getting "rich and famous" through Major League Baseball.
As he walked to the training room, Frank found himself asking a God he didn't believe in, "Why is this happening to me?"
The review:
This was a pretty good book. I know very little about baseball, except that the Texas Rangers always charge into the season as if they know what they are doing, then fall apart. The contempt with which this man was raised to view religion by his sociopathic mother and his weak father are quite clear. So is the gradual and persistent movement toward thinking things through for himself, aided by good friends and some foxhole situations.
I liked the fact that Mr. Pastore avoided using his book to get revenge at some people who really treated him shabbily and used him despite supposedly being Christians. He could easily have bitterly called them out instead.
I do feel Mr. Pastore glosses over the ill effects the narcissism of his Major League Baseball days, and his ministry days, had on his wife and children. While he did far better than either of his parents, he did much worse than he could have. The bootstrap effect is sometimes the best one can do, but it still costs.
This book did not cram the God Mr. Pastore worships down the reader's throat. A little heavy handed at times, for the most part it seemed content with gentle witnessing and examples of before and after. For that reason, and because even I, as a non-sport person found the book interesting, I am giving it an A minus.
FCC Disclosure:  Tyndale House Publishers sent me a copy of this book to review.  I received no other compensation.  My opinions are my own.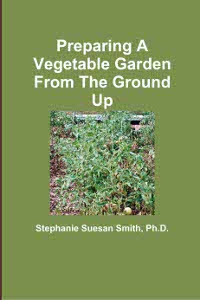 For more help gardening, buy my book, Preparing A Vegetable Garden From The Ground Up

Available in print or ebook from Amazon.com or other retailers, this book walks you from choosing the site of your garden all the way through what to do after the harvest. Buy a copy for yourself or a friend today!
---