The Unfaithful Widow:  Fragmented Memoirs of My First Year Alone by Barbara Barth  OutskirtsPress.com  ISBN 978-1-4327-5075-6
I would like to welcome my guest author today, Barbara Barth.  She is discussing her book, The Unfaithful Widow.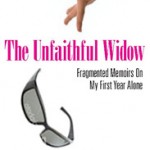 Cover blurb:
The Unfaithful Widow is a collection of essays on finding joy again after the loss of a mate.  A memoir written with warmth and candor, no subject is taboo.  From dealing with the funeral home (Can I show you our upgraded cremation package? I looked at Miss Death, was I booking a vacation?) to dating again (He ran in the door, looked at me and said, "I've left something in my car." He never returned.)  Sprinkle in a bevy of rescue dogs (Finally a good nights (sic) sleep with someone new in my bed.) and those questions you hate to ask (Condoms anyone?).  A story for anyone who has suffered loss and is determined to become their own super hero.
The Interview:
Dogs are like potato chips, it is hard to have just one.  How do you make sure each dog gets some individual attention from you?
Excellent question. It made me laugh. When the sixth dog April came here she was very shy and kept her distance for a week or so. One day I was working on the computer and I felt a bump at my elbow . It was April. Her bump caused me to delete a tool bar in Outlook. I looked at her and held her face. "April, who are you?" Her dark eyes looked at me intently.  I kissed her and renamed her April In Paris. April has her own blog where she dreams of visiting Paris, the city of lights. She has felt special ever since.
It is like a Disney movie here. Each dog is so different. There is my old lady Foxy I've had for fourteen years. I got her at 7 weeks. The five rescue dogs came in within the last year. It somehow all works. I am fortunate that the dogs get along and enjoy each other. Since I am such a dog person they all get attention. Three sleep in bed with me at night. Two are on the floor. April chooses to sleep on a lovely floral chair in the living room. They kiss me, they kiss each other. It is just too funny to watch them interact.
I watch TV with dogs on the couch. As I write this now, they are all around me on the floor, sleeping, waiting to be fed. They move about in their pack mode and follow me. It is easy to hug them all as they come at me in a mass of wagging tails and I can just reach down and play, romp with them.
They don't have competition for my company since I have no kids here and gee, no man. Wonder why? The last male in here ran out saying he had a headache.
Do you still sell antiques?
My excitement of selling antiques has gone. I still have two large cases where I sell jewelry and small items. I am so over moving large pieces of furniture. It was fun when my husband was alive. He was not involved with my business and I was stronger then, loading my van myself with a dolly and an energy high. Now I hire someone to move larger pieces. Living alone I don't want to find myself under a chest of drawers begging the dogs to call 911.  Sounds funny, but I did have a chest fall on me when I was pulling it out of my van. It dislocated my hip. My husband heard my cries and found me in the driveway. All he saw was my lovely 1800s cottage painted dresser and arms and legs! A quick trip to the ER and a tug on the leg (after medicating me) I was good as new. But that incident now makes me careful.
I am also for the first time decorating the house the way I want. So I don't like to buy for resale, but spent my money on things to keep. Most of my friends are still in the business so I enjoy hearing what they are doing. I am happy to have stepped back from it.

What made you close your newsletter?
I was working full time with the federal government. The newsletter went out quarterly. It was sixteen pages I did manually, cut and paste. Then had run off at Kinkos. I had subscriptions as far out as two years. The newsletter was on Raggedy Ann dolls. I kind of put that community of collectors together when I started the newsletter in 1988. There was little info available on the doll at that time. I had a friend who sold the early cloth dolls and I loved them. I contacted the family of the creator of the doll, got them involved and dealt with Simon & Schuster who held the book rights to get the official OK to publish my newsletter. I was approached by a printer who lived in the area where the Raggedy Ann museum was located asking if I would like to sell. I was in year 13 and trying to figure how I could stop the newsletter. I am a terrible business person. I could do a whiz bang artistic job, but handling the finances was a fiasco. I spent the subscription money as soon as it came in. Had to use it to cover my costs. Never set up a budget for it. So he bought at a good price for him with the understanding that he would honor all the already paid for subscriptions.  I loved doing the newsletter but after thirteen years I was ready to let it go. I think it is still being published.

What projects are you working on now?
I am still writing. It has become a way of life for me. I have three blogs and am on several author sites where I can drop my new pieces and get feedback.  I am working on a new book about dogs. At first I thought I would write another personal piece, but have decided it will be fun to use my six muses and put them into fictional settings. The Unfaithful Widow has a blurb on the last page for my book, Covered In Fur. Title will be the same, but I think I'll live a fantasy life in that book.
I am also planning a book signing/charity event for the end of the month to benefit Animal Action Rescue . It is turning into a big deal and I hope to raise a lot of money for them. People are turning dogs in at an amazing rate and the shelters are pushed for space and money to help these dogs find new forever homes. It is sad and I hope to be able to be part of the process in helping them. I can't take in any more dogs myself, but I am donating time and items for their auctions.

I know you never get over the death of someone you love, but does it hurt less now?
It has been two years since my husband died. I was depressed the other day and a reality hit me that was shocking. I was depressed over my own issues, not over his death. I am not sure if that sounds odd. But it was really a great thing. In the past when I got depressed it was over the fact he was gone.  This depression had nothing to do with him, but other issues I was dealing with. Not as a widow, but as my own person. It cheered me up to realize I had created my own life where I could be depressed on my own. I am usually very upbeat, but you know, some days you just have to have a pity party and then smile and get on with it. My husband will always be in my heart. Our relationship gave me a solid foundation that I have moved forward with. My life is so different now. I am in the same house, but it has changed. I have my dogs, my writing, my friends. They all knew my husband so he is still very much alive with all of us. They kid me he would be horrified at the changes; the dogs, the walls of paintings, the painted cottage cupboards. His stuff gone. But it is a good kidding. One that reminds me he was here with me for twenty-five years and still remembered by those who knew him. That makes my heart happy.

Are you still dating?  Still getting losers?
Another book on that one. Yes I try to date. I flunk most every time. My husband's cousin kids me that for someone who talks about dating I am a bit of a B/S artist. I have put up so many barriers for a relationship. Six dogs can scare many men.
I have had some nice dates, but nothing that would turn into anything serious. I like men so try to keep that door open. However, I have so much I need to accomplish I don't know how much energy I would put into a serious relationship. I am leaving that to the universe. I keep the door open, the universe will find someone at the right time to walk through it.
I still don't get along well with men my age. I do better with the younger crowd. I think that has to do with the fact I live in the city rather than in the suburbs. Atlanta is surrounded by a beltway, 285. The joke here is you live ITP (inside the perimeter) or OTP (outside the perimeter). There is a huge difference in how people are in both areas. Most of the men I meet online are OTP. They view me as a bit odd. The men ITP are a bit to liberal for me. So I haven't found exactly where I fit in. I have dogs, no experience with children. I am not impressed with money, but on the type of person you are. I like the word "awesome" and find I like the energy of younger people. I have a high energy level myself.  I find great adventures within a mile of my house talking to the Goth kids at the thrift stores, the artists at the galleries, dropping in to chat with my antique buddies at the different shops. Maybe it is just too soon for me to put someone else first. I did that with my husband and loved it. I hope to do it again. But when the time is right and I am swept off my feet, hopefully not to just land on my butt.

Do you travel to promote your book?  What do you do with the dogs?
Most of my book promotion has been online. I am slowly branching out to bookshops to see if I can create an interest. I have a great pet sitter who spends the night and makes visits during the day if I am gone. That has been a blessing. My mother tripped over her cat last month and was in the ER. I got a flight out and my pet sitter came to take care of the pack. He slept over and made visits back during the day.  Six nights with six dogs. A book title there. My mother healed nicely and still has that naughty cat.
Anything else you want to add?
I used to worry about the future when my husband was alive. What if something happened to him, to us, to our families. Well I faced the worst thing I could think of, losing my husband. Now I have learned to take it day by day and appreciate everything I have, everyone around me. For the most part I have always done that. But I am leaving the worry part to someone else. My husband was ill for a year, but most of that time he was living a normal life. The last few months were the hardest on him. We never talked about what if he died, only that he would get better. I lived in fear things were not going well with his health. I am so grateful I had that time to focus on him and could let him know how much he meant to me.  I am like a walking Hallmark card some days. You need to keep in touch with those you love and let them know it.
Your book is funny and I really enjoyed it.
Thank you! I am so pleased you liked it. And thank you for having me on your blog. It has been my pleasure. B

You can see more of Barbara at her website, www.barbarabarth.net.
The Review:
I did enjoy this book.  I was not sure I would, afraid it would be a maudlin collection of pity parties.  Instead, I found a delightful collection of essays displaying the author's slightly twisted and very Southern take on the world after her husband died.  Situations that had been routine while married were a whole different story as a widow.  Fortunately, the author has good friends and better dogs to help her get through the difficult first year with her humor intact.  This book earns an A from me.
Parental warning:  R rated, so do not leave it laying around the house if you do not want it read.
FCC Disclosure:  I was given a copy of the book to review.  No other compensation was provided and the opinions expressed are my own.  The Amazon link is an affiliate link.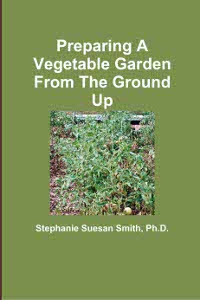 For more help gardening, buy my book, Preparing A Vegetable Garden From The Ground Up

Available in print or ebook from Amazon.com or other retailers, this book walks you from choosing the site of your garden all the way through what to do after the harvest. Buy a copy for yourself or a friend today!
---