I take a lot of pictures of wildflowers. Sometimes I do not know what they are and need to look them up. It can be hard to look up a flower in a guidebook. Where do you start? Well, at the end of May, I won a gift certificate to Barnes and Noble from Sara Lancaster of No. 2 Pen . One of the books I got was Wildflowers of Texas: Field Guide by Nora and Rick Bowers and Stan Tekiela. I agonized as to which field guide on Texas wildflowers to get, as there were several listed. When the book arrived, I was pleased with it.
The book is small enough that I can put it in my camera bag and carry it easily. The pages are arranged by the color of the flower. That makes looking up a flower easier when color is about all you know about it. I am bad about just taking pictures of the flower and not the rest of the plant. For each plant, the guide lists the common name, scientific name, family name, height, what the flower looks like, what the leaf looks like, when it blooms, whether it is an annual, perennial, or what have you, if it is native or not, habitat, range, and notes. The notes often mention whether it is considered invasive, what uses it may have, cautions about poisonous parts of the plants, and interesting facts. There are three icons on the page: flower type, leaf type, and leaf attachment. Opposite this information is a full color picture of the flower.
I like this field guide. While it does not give all the information I want about a plant, it does help me identify it so I can seek more information elsewhere. Of course, if it gave all the information I want about every plant in Texas, it would be too heavy to lift and look like the Oxford Unabridged Dictionary. I did find that sometimes the pictures, while of good quality, did not show enough detail of the smaller flowers to tell a particular species from a close look-alike. I also found that while this book has the 200 most common wildflowers, I inevitably took pictures of plants that were not in it. Overall, however, I think this book is a good field guide and a good place to start in identifying a wild flower in Texas.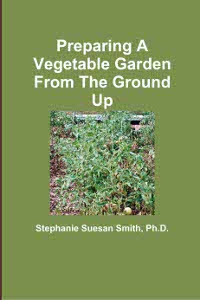 For more help gardening, buy my book, Preparing A Vegetable Garden From The Ground Up

Available in print or ebook from Amazon.com or other retailers, this book walks you from choosing the site of your garden all the way through what to do after the harvest. Buy a copy for yourself or a friend today!
---