As if it isn't bad enough to have to watch for black widow spiders when gardening, now we have to watch for brown widow spiders.  They are not as hazardous as their darker cousin, but can certainly make you sick.  The bad news for Texans is they are headed our way from both California and Louisiana.
Brown widow spiders are tropical spiders, but seem to be finding our area a comfortable home.  They range in color from grey to tan and have the hourglass on their stomach (really their abdomen).  The venom is more toxic than black widow spiders, but they do not inject as much per bite.
These spiders hide in areas of cover that are not disturbed much, such as wood piles, under houses, and outhouses.  Wearing long sleeves, jeans, and gloves will help avoid being bitten by these spiders.  They are not as aggressive as the black widow, either, so you have more time to move away from them.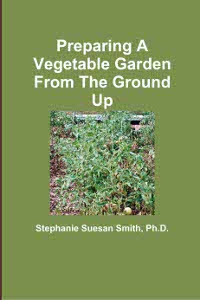 For more help gardening, buy my book, "Preparing a Vegetable Garden From the Ground Up." Available in print
or eBook, this book walks you from choosing the site of your garden all the way through what to do after the harvest. Buy a copy for yourself or a friend today!
---