Most of us have seen buzzards around.  We have two types in this area.  The Black Headed Buzzard is not just a carrion eater.  He will actually kill calves and other weak and vulnerable animals if he can.  Most ranchers hate these buzzards because of this.  Of course, buzzards and vultures are protected under federal law.  That doesn't always keep them safe, though.
The other buzzard we have around here is the Turkey Vulture.  He has a bald red head instead of a bald black one.  His personality is different, too.  As far as I know, while he will sit on the fence with a bunch of buddies waiting for something to die, he doesn't hurry along the process.
Buzzards and Vultures are all about conserving energy.  In the morning, they land on a telephone pole outside my study window.  They stand with their backs to the sun, and spread their wings to warm them.  A vulture might sit there 30 minutes, turning this way and that to make sure every part of his body is warmed.  They groom themselves and for all the world look like vain women at a dress shop, trying to see if this dress makes them look fat.
I often watch these antics and enjoy them as I write.  This morning, though, one of the regulars decided to watch me, too.  That was rather unnerving, to have a large bird of prey staring at me with his undivided attention.  I was glad he was on the telephone pole and I was inside the house!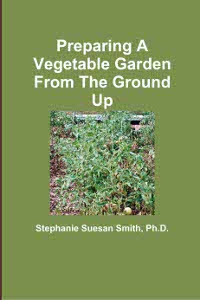 For more help gardening, buy my book, Preparing A Vegetable Garden From The Ground Up

Available in print or ebook from Amazon.com or other retailers, this book walks you from choosing the site of your garden all the way through what to do after the harvest. Buy a copy for yourself or a friend today!
---