Chiggers do not, strictly speaking, attack vegetable plants.  They do, however, attack vegetable gardeners with a vengeance.  Walk through a field in the summer in Texas, and you will get chiggers all over your lower legs and feet.  They are microscopic and itch like the devil.  In fact, they are so bad that people take a bath with a couple of cups of bleach in it to kill the beasts.  That will do it, but it is kind of hard on the human involved, too.
Chiggers are immature mites, more closely related to scorpions and ticks than insects.  Two species, Eutrombicula alfreddugesi and Eutrombicula splendens, are the main offenders in the north central part of Texas  where I live.  E. alfreddugesi lives in grass and weeds and is the one I usually run afoul of.  I remember getting really bad chiggers when I was going through old cemeteries trying to help find my great grandmother's grave.
E. splendens lives in swamps and bogs, not usually a problem here.  In any case, allowing weeds and grass to infiltrate your garden is not only bad for your vegetables, but may inadvertently invite the chiggers in for a visit.  Even if you did nothing to kill chiggers, they die after a couple of days because our immune system attacks them.  They prefer small mammals instead, but are opportunists.  If we come along, they jump on.
After exploring us for a bit, they settle in places where the skin is thin or a piece of tight clothing, such as a sock, is.  Piercing the skin with a sharp mouthpiece, they inject an enzyme that digests skin cells  They then slurp up the digested stuff.  Our body objects to that whole process, so swells up and envelopes the chigger, releases histamines which cause itching, and generally has a fit. The chigger dies in a day or two and the itching and redness may last as long as a week.
To avoid chigger bites, make sure the grass and weeds are controlled in your garden.  If you have to go through a grassy field, you can chance it then go home and change clothes, laundering those you just wore in hot water.  Take a warm, very soapy bath or shower to drown the little guys, and scrub vigorously to dislodge any the soap didn't smoother.
Or, you can put DEET on your exposed skin according to the label directions (the label is the law) and a permethrin to your clothing to kill the little buggers.  Do not get the permethrin on your skin and follow label directions there, too.  Your odds are better with this method.  You still need to change  clothes as soon as you get home and launder the clothes with the permethrin separately from any other clothes
The best prevention against chiggers is to keep your garden weed free and your lawn trimmed.  This last part doesn't work if you are trying to restore the habitat to native prairie grass, so sometimes you just have to use something on yourself, as discussed above, and hope you don't get too badly bitten.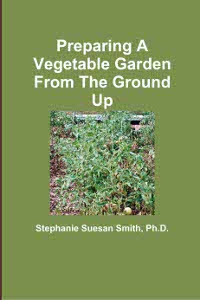 For more help gardening, buy my book, Preparing A Vegetable Garden From The Ground Up

Available in print or ebook from Amazon.com or other retailers, this book walks you from choosing the site of your garden all the way through what to do after the harvest. Buy a copy for yourself or a friend today!
---