Tomatoes can be grown almost anywhere. They grow in garden plots, in pots, and in those upside down hanging baskets. Because they are so common, more questions come up about them than almost any vegetable.
The most common question is about tomatoes that bloom beautifully, but never set fruit. Tomatoes will still bloom when it is hot, but when the nights are over 90 degrees F for very long, they stop setting fruit. That means the blooms never develop into tomatoes. That is the tomato's way of conserving energy and water for the long, hot summer.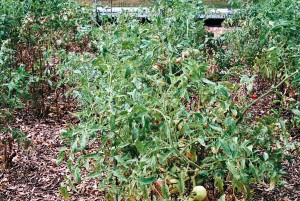 While it is possible to nurse a tomato vine through the summer and have it begin bearing fruit again, the vine never produces as well after stopping for a while. It is best to rip the vine out when it stops producing and toss it on the compost heap. Replant when you are supposed to for your fall garden. In Texas, that is mid-July, but the date will vary by where you are.
The other common problem is the vine grows beautifully, but never blooms or has fruit. For a while, there was a compost company selling small bags of compost and telling people to tear the plastic a little and plant two tomato vines in each bag. They grew vines like nobody's business, but the vines never bloomed. Upon examination, the vine was usually over fertilized. While this sounds odd, the excess fertilizer makes the vine concentrate on growing vine and putting off growing fruit until later. This is an example of the mantra "more is not necessarily better." Follow the fertilizer directions so you do not have this problem.
Finally, tomatoes that rot on the vine are a puzzlement to growers. That is called blossom end rot, and it has an article all it's own. Just click on the link and you can read about blossom end rot.
What tomato problems do you have questions about?  Leave a comment and I will try to answer them for you.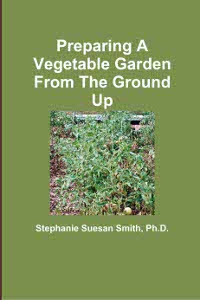 For more help gardening, buy my book, Preparing A Vegetable Garden From The Ground Up

Available in print or ebook from Amazon.com or other retailers, this book walks you from choosing the site of your garden all the way through what to do after the harvest. Buy a copy for yourself or a friend today!
---