Slugs and snails are attracted to a garden because there is lots of food to eat there.  The nicely manicured areas with healthy plants provide a banquet that is hard to find anywhere else.  However, it is not a banquet for them, at least not for long.
Snails and slugs feed primarily at night, so you do not usually see them.  You see the damage they do, however, in bites in the strawberries, tomatoes, and greens in your garden.  They also leave behind slime trails that look silvery in the light.
Dealing with these critters takes several steps.  These do not include the old copper based bait that kills pets, but do include some things that are lethal to the snails and slugs.  But first, you need to understand their biology to understand how to control them.
Snails lay masses of eggs on the undersides of plants or in the dirt.  When the young hatch, they start eating the plants immediately.  Snails hide during the day under rocks, logs, fallen leaves, and things of this nature so they do not dry out in the sun.  Slugs have a similar life cycle, just minus a shell.
To get rid of these pests, first eliminate as much of their hiding places as you can.  Remove plant debris, make sure your compost pile is at a distance from your garden, and remove rocks and logs from the garden.  Using drip irrigation can help as it leaves the snails without moisture without starving your plants for water.
If you can overcome the yuck factor, go out in the early part of the night and pick as many of these pests off your plants as possible.  Drop them in a jar of soapy water to drown.  If that is just too gross, move on to the next item.
The old beer baited trap works just fine.  Fill a tuna can with beer and set it in a hole so the edges of the can are a little below ground level.  The snails go for the beer, fall in, and drown.  You just empty the trap each morning and rebait it.  Commercial traps are available, as well.
Copper strips can be used to create a barrier.  It is believed that they create an electrical field that reacts with the slime of the snail and repels them.  Frankly, with the price of copper these days, no one can afford to do this.  Next tactic, please.
Slug bait is available.  The old slug bait, metaldehyde, is very poisonous to mammals as well as to slugs and should not be used.  The newer slug bait is made of iron tablets, which the slugs eat, and then they die.  It is not nearly as poisonous to mammals, although it certainly isn't good for them.  So use the slug bait if you have to , but be careful of your dogs and cats if you do.  In the United States, the bait is sold as Sluggo® or Escar-Go® baits.  Be sure to follow label directions and spread the bait right after a rain or after watering because this is when snails are most active.  Do not place baits directly on the vegetables unless the label says that is an acceptable use.  Put around the vegetables instead.
Snails and slugs can do a lot of damage in a garden.  I generally take a live and let live attitude to critters, but not when they eat my food.  Hopefully, this article has helped you if you are having the same problem with snails and slugs and want to eradicate them.  Any questions?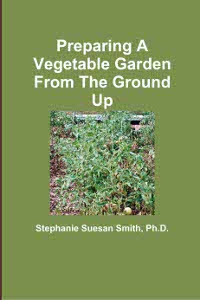 For more help gardening, buy my book, Preparing A Vegetable Garden From The Ground Up

Available in print or ebook from Amazon.com or other retailers, this book walks you from choosing the site of your garden all the way through what to do after the harvest. Buy a copy for yourself or a friend today!
---