Cotton Root Rot, also called Phymatotrichum omnivorum, is widespread in the Southwestern United States and Northern Mexico.  It is devastating because it is almost impossible to eradicate and can render whole fields worthless.  Although this has been studied since the area it inhabits has been settled, no treatment exists.
This soil fungus infects broadleafed plants and kills them.  It can infect over 2,000 types of plants.  Frustratingly, it attacks only mature plants.  Seedlings are not affected, so a test planting will not tell if the disease is possible until the plants are mature.
The fungus invades the roots and causes them to rot, thus preventing them from transporting water to the leaves and stem.  This happens with astonishing speed.  The leaves yellow and then turn bronze.  The plant is dead, with the leaves still firmly attached.
Now what?  Do not replant a broadleaf plant in this location.  It will die.  Do not plant broadleaf plants in old cotton fields, as these are likely to be infected.  The best idea is to avoid planting these areas.
If that is not possible, building raised beds with large amounts of organic matter worked into them may help.  It is important to keep the amount of organic matter in the soil high year after year, or the fungus will come back.  Make sure nothing planted in the bed will extend roots outside the enriched soil, or they will be used by the pathogen to invade the bed.
Cotton Root Rot is a frustrating soil borne fungus that has no treatment.  It limits the places grape vines, apple trees, and other fruit bearing trees can be planted in the southwest.  If your plants die suddenly, you need to talk to your Extension agent.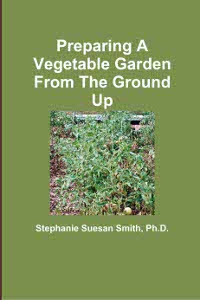 For more help gardening, buy my book, Preparing A Vegetable Garden From The Ground Up

Available in print or ebook from Amazon.com or other retailers, this book walks you from choosing the site of your garden all the way through what to do after the harvest. Buy a copy for yourself or a friend today!
---