I was watching a cow eat as I looked out my study window and realized that for all the importance cows have in my life, and in history, I really did not know much about them.  I know to be wary of bulls, and that mommas with babies are dangerous, and that cows eat grass and become tasty dinners.  Longhorns saved Texas after the Civil War, so they are important, and dairy cows deliver milk to make pretty much everything.  But where do these troublesome but necessary animals hail from?
Cattle (Bos primigenius) are descended from aurochs, the wild cattle that became extinct in 1627.  There are actually two types of cattle, the European cattle and the Zebu, such as the Brahama cattle.  Originally, they were classified as separate species, but are now usually considered subspecies.  Cattle are one of the oldest domesticated animals and have been feeding man since Neolithic times.  Cattle theft followed closely and clans and tribes spent a lot of time either guarding their cattle or stealing the cattle of other groups.
Columbus delivered cattle to Hispaniola on his second voyage to America in 1493.  The cattle reproduced and Cortez brought some of their offspring to Mexico in 1519 and set up ranches.  Some of these animals escaped and became longhorns living wild in Texas.  Cattle were also brought over by most of the settlers when they made a new community.  Soon there were many different types, or the beginnings of breeds, adapted to local conditions.  As usual with cattle, a fair number escaped and became feral.
After the Civil War , after Lincoln was killed, very high taxes were levied everywhere in the South.  Supposedly this money was to be used to reconstruct the bridges, tunnels, etc. that were destroyed during the civil war and to pay for the cost of the war in terms of bullets, powder, soldier's salaries, etc.  Most of the money just disappeared into the hands of the carpet baggers and very little was spent in the South.  People had nothing, and the carpet baggers took all of that, too.
In desperation, men began rounding up the stray cattle so they had food for their families.  They also began selling the cattle.  The big places and names, Charles Goodnight and Captain Richard King, started trail drives to railheads hundreds of miles from them.  This was dangerous work, but it saved Texas.  The King Ranch continues to be in the forefront of cattle and horse breeding, although now they get more revenue from oil and gas than from cattle.
So that is a little bit about these cows that most people only see parts of, sitting in little plastic trays covered with plastic in the grocery store.  I am still not fond of a cow on the hoof, but do love one on the grill.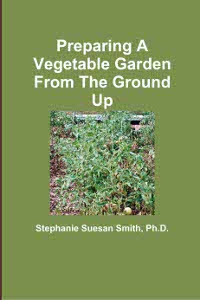 For more help gardening, buy my book, Preparing A Vegetable Garden From The Ground Up

Available in print or ebook from Amazon.com or other retailers, this book walks you from choosing the site of your garden all the way through what to do after the harvest. Buy a copy for yourself or a friend today!
---