I generally take a live and let live attitude toward creatures on my farm.  Paper wasps, however, are an exception.  These yellow and white, or yellow and red wasps live in colonies.  They are the wasps that make the little nests hanging from doorways, under mailboxes, and other places people have to go.
There in lies the problem.  These wasps vigorously defend their nests, often stinging a person to drive them away.  Wasps can sting multiple times and each time they inject venom.  People who are sensitive to the venom can die from a single sting.
Wasps over winter in sheltered places and come out when it begins to get warm.  Here in Texas, they are buzzing around looking for a place to build a nest.  This is a time when they frequently get into houses looking for a sheltered nest location.
When the queen finds a good nest location, she builds the nest of paper produced by chewing wood fibers.  The nest consists of cells in which she lays a single egg.  When the eggs hatch, the queen feeds them.  As more wasps are produced, workers take over the task of tending the larva.  When the larva is ready to pupate, the cell is closed like a cocoon.  When the wasp is an adult, it chews through the cell cap and is ready to go.
Control of paper wasps is always a little dicey.  You have a really good chance of being stung while doing it.  If you have an allergy to wasps, or a heart condition, call a professional and let them do it.  If you must do it, use one of those spray cans of wasp killer and hose the nest down good from as far away as you can stand and still hit the nest.  Foraging wasps may return to the nest, but when they walk on the pesticide soaked surface, they will die.
Be aware that wasp spray is for outdoors only.  It is very poisonous.  Make sure you sweep up any dead wasps and throw them in the (outdoors) trash to prevent pets or birds from eating them and getting sick.  Follow label directions to clean pesticide off of sidewalks or other surfaces it may have dripped on when you sprayed the nest.  Remember to follow all label directions — the label is the law.
Wasps are generally beneficial creatures.  I only poison them when they build in high traffic areas or seem to chase me.  Otherwise, I leave them alone and they leave me alone.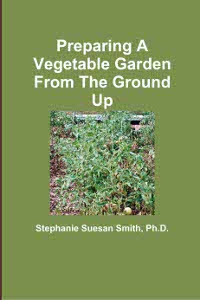 For more help gardening, buy my book, Preparing A Vegetable Garden From The Ground Up

Available in print or ebook from Amazon.com or other retailers, this book walks you from choosing the site of your garden all the way through what to do after the harvest. Buy a copy for yourself or a friend today!
---