In the last 41 years, Earth Day has made major contribution to our lives.  The Clean Air, Clean Water act, even if enforced only fitfully, has made it easier to breathe and safer to drink the water.  Even the fact that BP Oil had to engage in a massive cleanup of their oil spill mess is a testament to the power of the environmental movement.
Growing food for your family is a powerful, earth affirming act.  When you grow your own food, you know what fertilizer went on your plants.  You control the amount and types of pesticides used.  You even control the type of seeds you grow  — GMO, conventional, or organic.
Just as important, however, when you grow your food, it isn't trucked in or flown in to your location.  That means fossil fuels are not burned to get your vegetables to you.  Migrant laborers do not labor in the hot sun picking it, often for wages that fall far short of a living wage.  You are not part of a whole system that is hard on the environment and the humans that live in it.
It is not too late to plant a garden this year.  Warm season crops can still be planted.  After those are spent, the fall garden will go in.  You can grow enough vegetables to can, freeze, dry, and consume for the next year if you work at it.  Even if you do not have room for a garden, you can grow a surprising number of vegetables in containers.
Plant something today in celebration of Earth Day.  Smell the good earth, get your hands dirty, and rejoice!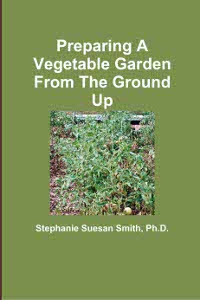 For more help gardening, buy my book, Preparing A Vegetable Garden From The Ground Up

Available in print or ebook from Amazon.com or other retailers, this book walks you from choosing the site of your garden all the way through what to do after the harvest. Buy a copy for yourself or a friend today!
---