The East Texas Fruit and Vegetable Conference is Tuesday in Tyler, TX.  The morning sessions will cover general topics such as irrigation, water sources, and food safety.  In the afternoon people can choose from fruit, vegetables or wine grapes for more concentrated topics.  The fruit sessions will include blueberry production and niche fruits such as olives, pomegranates, and kiwis.  The vegetable session will include soil amendments, grafted tomatoes, and plant diseases.  The wine grape session will include vineyard tasks and time management, and a field trip to a local winery for a tour.
The event is held at the rose garden center in Tyler, Texas.  It costs $30 and registration is at the door only.  In addition to the sessions, there will be a vendor room with displays from area vendors.  This conference usually has good speakers and interesting vendors.  I hope to see you there.  Say hello if you come.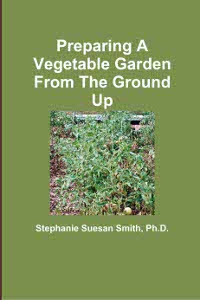 For more help gardening, buy my book, Preparing A Vegetable Garden From The Ground Up

Available in print or ebook from Amazon.com or other retailers, this book walks you from choosing the site of your garden all the way through what to do after the harvest. Buy a copy for yourself or a friend today!
---