Texas has weather that tends toward the extremes. We either have drought or floods. Not much in between. During the drought, also called Summer, the ground bakes and cracks. Chickens have been known to step in these cracks and break a leg while running. The cracks are big enough that they seem to extend downward forever. The ground bakes until it is very like cement. Water just runs off it instead of soaking in because the heat has fired it into clay. That becomes a real problem during the rainy season, which is during October and November, then again during March and April. Tons of water rushing off baked soil washes gullies, pounds stream beds, and floods rivers and lakes. It also can wash the contents of a farm pond right into a creek or river. Farmers find their fields stripped of topsoil, their ponds empty of catfish, and lakes and rivers find themselves full of sunlight choking silt.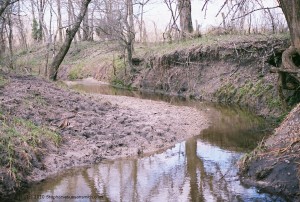 During a hard rain, this wet weather creek will be full or over the 3-4 foot banks.
The alternate firing and flooding makes erosion control important. Not just water erosion, but wind as well. Remember the dust bowl? That means that an important part of any habitat restoration, or maintenance for that matter, has to involve controlling the effects of water and wind on the land. Texas Parks and Wildlife discusses these types of erosion control in their wildlife management CD for landowners:
* Pond Construction and Repair
* Gully Shaping
* Streamside, Pond, and Wetland Revegetation
* Herbaceous and/or Woody plant Establishment on Critical Areas
* Dike/Levee Construction and Management
* Establishing Water Diversion
Pond construction and repair and gully shaping are pretty expensive. Because of this, you are allowed to depreciate them over ten years. These may seem self-explanatory. After all, you want a pond, you dig a hole and wait for rain to fill it. Well, not exactly.
You cannot alter the water flow leaving your property without getting approval from an amazing array of people in Texas. Other states have somewhat different laws, but in all cases you have to check with someone. Your first stop should be the Natural Resource Conservation Service (NRCS), who will sort of shepherd you through the process and make sure you build the pond in a good spot where it will catch water, you do not make the water during a rain flood your neighbor's land, and you do not negatively impact any wetlands. NRCS used to be called Soil Conservation.
Gully shaping takes canyons and makes them softer slopes, which are then replanted. The plants hold the gullies down and help stop further erosion. Usually, native plants that will feed wild animals are chosen for this.
I will discuss the other parts of erosion control in another post. Tomorrow, I will review the book 101 Things I learned In Film School by Neil Landau with Matthew Frederick. On Wednesday, 6/2/2010, you can hear Neil Landau interviewed by Brianne Beers, the Online Marketing Coordinator for Hachette Book Group, at 1 PM EST. You can hear the show here .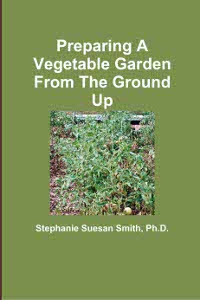 For more help gardening, buy my book, Preparing A Vegetable Garden From The Ground Up

Available in print or ebook from Amazon.com or other retailers, this book walks you from choosing the site of your garden all the way through what to do after the harvest. Buy a copy for yourself or a friend today!
---