I have been talking about cultivating wildlife on my property in several posts.  I dealt with habitat control in parts one and two .  Then I started on erosion control .  Now I am going to talk about two more aspects of erosion control, streamside, pond and wetland revegetation and establishing native plants on critical areas.
I talked about building a pond and contouring gullies in part one of erosion control.  It does no good to do all that expensive dirt work if you do not quickly plant the new areas with vegetation.  This holds the dirt in place and prevents erosion from undoing all your expensive work.  While grass is the quickest and easiest vegetation to use, it isn't necessarily the best.  Grass will choke out all the other plants, and you will have a barren expanse of vegetation that feeds nothing but cows.
Instead, it is better to establish native plants in these areas.  These plants will, once established, need little attention and will provide habitat for the small mammals, birds, butterflies, and other creatures native to the area.  Seed is available from several vendors, including Wildseed Farms in Fredricksberg, Texas, and Native American Seed in Junction, Texas.  They will help you decide what plants would be best for the area you are seeding and are native to your area.
It isn't just recently worked soil that needs to be planted in native plants.  When farming was done by horse or mule, fence rows were usually twenty feet or so wide.  That area sheltered a lot of life.  Now tractors cultivate fence to fence and there is no space for wildlife.  Those fence rows represent valuable habitat.  You can plant trees every ten feet along the fence, then come out five or so feet and plant a shrub between each tree.  Come out five more feed and plant a row of native plants heavy on food producing flowers.  The trees should contain trees such as persimmon, plum, and pear that produce soft mast for the animals to eat.  The shrubs should produce berries or other fruit the birds and animals can eat.  And, the shorter flowers and forbs should feed the animals.  The species of trees, shrubs, and flowers will change depending on where you are, but the concept is the same.  You want to create a food rich shelter belt for the birds and animals to live in that is at least 20 feet wide by 100 feet long.
If you have the land, you can create a 120 feet wide by 1/4 mile wide island using the same techniques that gives larger animals, such as deer, a place to live.  Most of us, though, do not have that much land.  Another thing you can do, if you have a big pasture with no cover in it, is when you cut the cedar, juniper, and honey locust trees down that infest the land, pile them in several brush piles in the pastures to provide birds and small mammals such as rabbits a place to nest and hide during the day.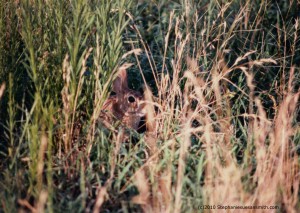 Rabbits need a place to hide
Speaking of pastures, you can reseed them with native prairie grass, or the grasses native to your area, and still graze and hay the pasture.  I plan to reseed my coastal bermuda with native prairie grass mixed with wildflowers.  I do not have to do it all at once.  I have to do 1/10th of my property at a time to count.  I will be doing it over about four years.
I will discuss dike and levee construction and management and water diversion next time I write on this topic. In the mean time, don't forget to sign up for the Summer Solstice Giveaway I am having.  I am giving away a Miracle Gro Plant Food Sprayer starter kit.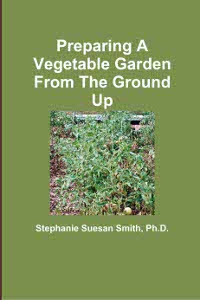 For more help gardening, buy my book, Preparing A Vegetable Garden From The Ground Up

Available in print or ebook from Amazon.com or other retailers, this book walks you from choosing the site of your garden all the way through what to do after the harvest. Buy a copy for yourself or a friend today!
---