It was 110 degrees F in Dallas this past Wednesday.  No, that isn't a mistake, it really was 110.  We are on track to beat the 1980 record of 42 consecutive days over 100.  As miserable as this is for humans and pets, at least we can come inside.  Plants that are stuck in the ground are stuck in the heat.  About the only thing in my landscape that doesn't look miserable is the honey locust, and it is a weed tree.
So how do you help your plants through this?  Well, just get used to the likelihood that your plants will lose a lot of foliage.  Foliage has pores, just like our skin, and when it is hot and dry, plants often shed a lot of their foliage to conserve water.
Watering your plants is important.  However, most of the DFW metroplex, indeed most of Texas, is under watering restrictions.  People need the water more than your plants.  So, triage.  Water the plants that are the most important to you, and water them properly.  Use a soaker hose or drip irrigation, water between about 5 a.m. and 10 a.m., and do not let any water run off.  Those sprinklers that spray water through the air lose up to 40% of it to evaporation before the water hits the ground.  Do not use them — we cannot afford to waste water like that.  It is never a good idea, but now is an especially bad time to do that.
Make a list of all the plants in your landscape.  Make notes on how each plant is doing.  When one dies, put down the date and cause.  When it comes time to plant, pick plants from the list that survived, as well as plants listed as drought tolerant, to replace the ones that died.  It isn't a bad idea to keep such a list all the time.  Then you can plant the winners and compost the losers without repeating mistakes year after year.
If your lawn dies, and it might, consider establishing flower beds over much of it for next year.  Lawns suck down water like a sponge.  Flower beds, properly irrigated and mulched, use much less water.  They look nicer and you don't have to mow them.  Many water companies in Texas have pamphlets on how to landscape a water wise landscape.  The Extension Service has a whole website on landscape water conservation.
Water wise landscaping isn't rocks and cactus, at least not unless you live in the Mohave Desert.  It is simply planting native plants that are used to our wild weather instead of plants from other regions that need excessive amounts of watering and care.  Bluebonnets, prairie grasses, and other beautiful things can grow in a water wise landscape.
One other point about this heat.  Please do not fertilize your poor plants.  The last thing a plant needs when it is 110 is to try to put on a bust of growth.  Talk about fertilizer burn!
As dangerous as this heat is to plants, it is more dangerous to humans and animals.  Make sure you drink enough water, come in frequently to get cool, and try to do any gardening early in the morning or late in the evening when it is not so hot. Oh, and think of October, when the rains come and it is cooler.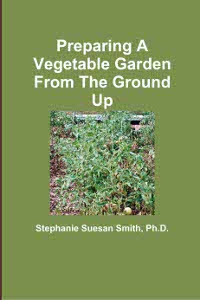 For more help gardening, buy my book, Preparing A Vegetable Garden From The Ground Up

Available in print or ebook from Amazon.com or other retailers, this book walks you from choosing the site of your garden all the way through what to do after the harvest. Buy a copy for yourself or a friend today!
---