The invasion of the crickets has begun.  Every year in Texas, around the end of summer and into fall, black field crickets appear in huge numbers.  They pile up in big piles in doorways, get into houses and destroy things, and generally make a nuisance of themselves.  Why, and what can you do about it?
Field crickets lay their eggs in the fall.  These hatch into wingless nymphs.  The nymphs grow and go through several molts, or instars, over about three months before becoming winged adults.  At this point, they go on mating flights at night.  This is when crickets pile up and cover everything.
After the mating flights, the female crickets lay their eggs in the soil.  The eggs remain dormant and hatch the following spring, restarting the cycle.  A single female can lay from 150-400 eggs.  Firm, bare soil is preferred as a place for the eggs to be laid.
The problem with these cricket pile-ups is that inevitably, some get in the house.  There, they chew on clothing, drapes, wall coverings, and other cloth.  Whet they do not chew on, they poop on, staining the cloth badly.
Outside, in town, you see huge piles of crickets early in the morning that have died.  These piles are unsightly and can smell as the crickets decay.  Daily removal of the dead crickets is necessary from an aesthetic standpoint as well as a public health one.
Crickets are attracted to lights.  If huge piles of crickets are ending up outside your house or place of business, you will have to reduce the outdoor lights until the problem has passed.  There are yellow bug lights you can use that still give some light but are not as attractive to the crickets.  Low pressure sodium vapor lamps are also less attractive to crickets.
To prevent an invasion indoors, you must find and seal all cracks, crevices, and other places the crickets can get in.  If a hole is necessary for ventilation, stuff it with steel wool.  This allows for air circulation but keeps the crickets out.
There are baits you can spread around your house or business that the crickets will eat and then die.  You still have to sweep up the crickets, but there are fewer of them to sweep over time.  There are also sprays you can spray around the outside of your building at potential entry points.  Inside control with pesticides is not very effective and is not recommended.  Killing the crickets before they get in, or making it impossible to get in by sealing the building well, is the key to control there.
The annual cricket invasion has begun.  Another rite of fall.  Now if the temperature would just drop below a hundred, I could get excited about the turning of the season.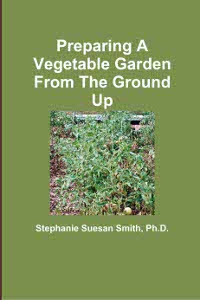 For more help gardening, buy my book, Preparing A Vegetable Garden From The Ground Up

Available in print or ebook from Amazon.com or other retailers, this book walks you from choosing the site of your garden all the way through what to do after the harvest. Buy a copy for yourself or a friend today!
---