Remember the saying, "Give a man a fish, you feed him for a day.  Teach a man to fish, you feed him for a lifetime?"  Gardening is like that .  You can teach someone to garden, to grow their own vegetables, and they will have food security.  Even if they do not live anywhere that  has any place to plant, pots and a little ingenuity will make it work.
How, you ask?  My book, Preparing A Vegetable Garden From The Ground Up
, teaches you to pick a site, prepare it, and grow all the vegetables you need to eat all year.  As much economic insecurity as there is, who can't benefit from that?  Even the White House has a kitchen garden now.
In fact, you could say growing your own food was patriotic.  Most of the Founding Fathers of the United States were farmers.  People grew their own food as they pushed westward to expand the country.  Citizens grew Victory Gardens during Word War II so everyone had food.  Follow this well trod path this Christmas season and purchase a copy of Preparing A Vegetable Garden From The Ground Up
for yourself or your family.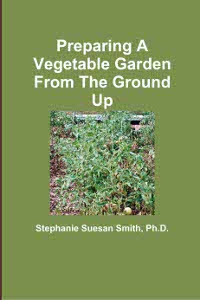 Available in print or ebook from Amazon.com or other retailers, this book walks you from choosing the site of your garden all the way through what to do after the harvest. Buy a copy for yourself or a friend today!
---