This post about my dogs Sandy and Amber is part of a bigger narrative about amazing dogs going the extra mile. Thank you www.dogbarkcollar.com for making this possible.
Sandy is my Australian Cattle Dog.  She wandered up to my house when she was about eight months old.  I could not find her owner and decided to keep her until I found her a good home.  As I write this, she is eight years old and sleeping at my feet.
I fish a lot and decided one day to take Sandy fishing.  Big mistake!  First, Sandy loved the water and would not quit swimming around in my fishing area.  I was worried she would get tired and drown, but she just swam in happy circles in the pond.
Next, Sandy was convinced that I didn't really intend to throw that cork away and keep retrieving it.  Pretty hard to catch fish when the cork won't stay in the water.
I had not had this problem before.  My service dog, Amber, would sit patiently beside me while I fished and never showed much interest in the water, the cork, or the fish.  She did get excited when we went to a public park to fish that had large numbers of geese and ducks walking and swimming around.  Service dog or not, she was still a dog and when one of those geese swam or walked by too close she wanted to go after them!
I used to fish in a lake with my aluminum book.  Amber would lay in the bottom of the boat, so was invisible to anyone observing us until she sat up.  I went fishing early one morning and some guys who had had way too much to drink were just pulling up to exit the lake. They decided to come over and harass me.  Amber sat up and barked vigorously and those guys decided that wasn't such a good idea after all!
Amber had her own life preserver and wore it when we went fishing in the boat.  Dogs can swim a long time but even they tire after a while, so her life preserver was important.
The lake we fished on most was in a national forest.  That meant there were game wardens galore.  They frequently checked people on the lake for licenses, game limits, and safety gear in the boat.  The game wardens would check us from time to time.  They always found the image of a large poodle wearing a life preserver humorous.  I think sometimes they checked us because they didn't believe there buddies about the dog in our boat.  The game wardens that checked that area regularly grew to know our boat and would snicker a bit as they passed us.
Amber had that effect on most law enforcement.  I got stopped one time for a faulty headlamp on my car when Amber was curled up on the passenger seat, wearing her seat belt.  As the cop reached for my license, Amber uncurled and looked down her nose at him like, "Are we going to have trouble or can I go back to sleep?"  The poor officer jumped back, then realized she had a seat belt on.  He made it back to his patrol car before he laughed.  We got a warning and admonishment to get the headlamp fixed, which I did the next day.  I miss Amber and am eager to get her successor dog, Star, trained to accompany me as soon as possible.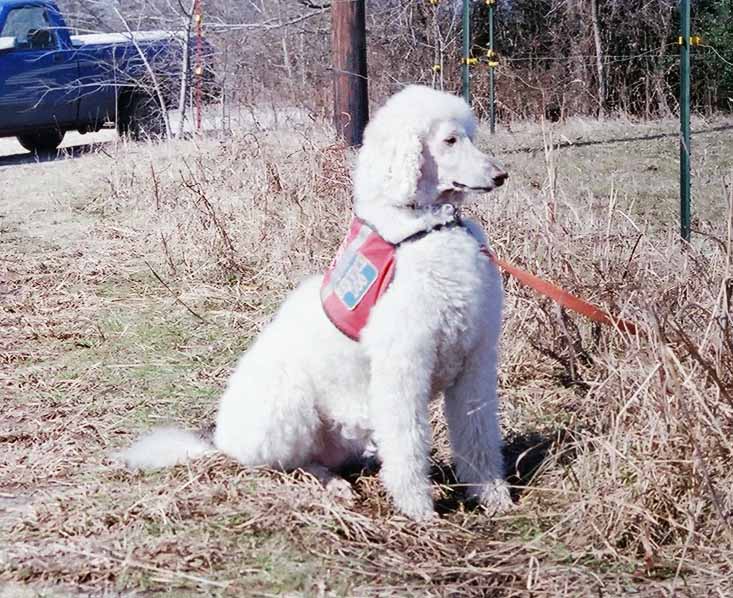 ---