One of the nice things about WordPress is that you can use it as a web page with an embedded blog. Every blog should have certain information available to readers, such as a disclaimer, and it is easiest to do this as pages.  Here are the five pages I consider essential:
1)Home — This is like the cover of a book.  If the home page is not appealing, people will stop and go elsewhere.  Pop-ups, flashing things, and autoplay noise are things that make me flee as quickly as possible, and I am not alone.  Make your first impression count for you, not against you.  Your blog may feed onto your home page, or it may be separate.
2)About Me — I have not met anyone who likes filling this thing out.  However, if people enjoy your blog or are impressed with your home page, they will go here next.  This is your chance to show them you are human and give them a sense of what kind of person you are.  This is not a resume, that goes elsewhere.
3)Disclaimer — The FTC now requires disclosure of any relationship which might influence the reviews or writing of a blogger.  A disclaimer also helps if you give advice on a topic where something might go wrong.  Of course, a disclaimer does not excuse negligence.   A web search will turn up several templates for this disclosure, depending on what you blog on.
4)Contact Me — Put clear ways to contact you here.  If you use a form and it malfunctions, no one can tell you because it isn't working.  It is easy enough to create a dedicated email account for your blog and list it here.  If you work by phone, you can list that here, along with the hours you answer the phone.  Be sure to include your time zone, or you will get calls at 2 a.m. from somewhere across the world.
5)Hire Me — If you take clients for writing jobs, babysitting, whatever, you need to let people know you are available.  Otherwise, they may like your work but assume you are not accepting new jobs.
There are a few other tabs that are useful, such as a "PR OK!" tab, Resume or store, but these five are essential.  They keep you out of legal trouble, give people an idea of who you are, and tell them how to contact you.  What tabs would you add to this list?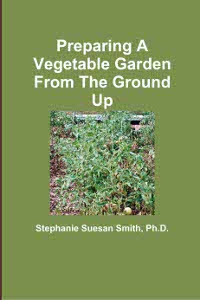 For more help gardening, buy my book, Preparing A Vegetable Garden From The Ground Up

Available in print or ebook from Amazon.com or other retailers, this book walks you from choosing the site of your garden all the way through what to do after the harvest. Buy a copy for yourself or a friend today!
---