Dead spots in your lawn can be an unsightly occurrence. When a lawn is beautiful, lush and green it enhances the visual appeal of your home. Repairing the dead spots will allow your lawn to return to its lush magnificence and have your home looking beautiful once again. Here are a five ways you can renovate the dead spots in your lawn.
Reseeding
You may try a twofold approach to fixing the dead spots in your lawn. This will include watering the dead patches and mowing it to see if it will produce green grass once again. This is a great approach, but if it doesn't work you will have to reseed the lawn. The best time to do this is in the fall, as it gives the seeds time to grow during the cooler days of the year.
Incorrect Maintenance
Sometimes when dead spots appear in your lawn it can be due to your own negligence. You may have forgotten to water your lawn with your sprinkler. If this is the case, there would be a section of the lawn that would be deficient as a result of this water shortage. Also, gas, herbicide or fertilizer spills on your lawn may cause damage to the area on which either of these substances fall. Do not fill your lawn mower with gas while on the grass. Instead, do so off the grass and use spill-proof nozzles to cover your gas cans. When using herbicide or fertilizer make sure to mix or fill these chemicals off the grass.
Compacted Soil
The soil of the lawn can sometimes become very compacted that there is no way air or water can get to the roots of the grass. This can cause brown patches. Use an aerator on the bare spots. Place some compost in the area and reseed.
Get Rid of Weeds
Another possible cause of dead patches is weeds. Weeds can prevent a part of the lawn from growing and eventually they take over the area. As a corrective measure to these dead spots, destroy all the weeds in that area before you start attending to any new grass.
Dethatching
Thatch may build up on your lawn over a period of time and need to be removed. Thatch is debris that decomposes and settles on the ground over time. This will prevent your lawn from staying green even if it is being maintained. Dethatching is another way to fix dead spots in your lawn. It involves removing the thatch from the area.
Fixing dead spots in your lawn can help save your grass and restore it to its lush beginnings. A lawn enhances the beauty of your home. It should be lush and vibrant at all times. Make sure you water your lawn on a regular basis. Furthermore, your maintenance routine should include mowing and fertilizing your lawn to keep pests away. Once the bare spots are restored, follow through with the lawn upkeep. Failure to do so will result in a reappearance of dead patches.
This is a guest post contributed by Haliyma Barrow, a professional writer based in New York.  Haliyma enjoys covering gardening related topics in her articles, such as spring gardening tips.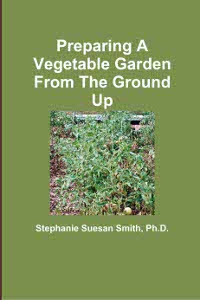 For more help gardening, buy my book, Preparing A Vegetable Garden From The Ground Up

Available in print or ebook from Amazon.com or other retailers, this book walks you from choosing the site of your garden all the way through what to do after the harvest. Buy a copy for yourself or a friend today!
---