The Texas Discovery Gardens is celebrating its' 70th anniversary this year.  As part of that anniversary, they are running a special on membership and putting on several special programs. Reliant Energy is matching membership funds so that for a short time, membership is half off.  Join as an individual for $15 instead of $30 until May or when the matching funds are exhausted.
On December 17th, they are holding a natural ornaments workshop.  Dress for a walk and tour the gardens to see how to make ornaments from natural objects you can grow.  This workshop, from 11- noon, is included with the normal admission to the gardens.  Admission is $8 for adults, $6 for seniors, and $4 for children.
If ornaments are not your cup of tea, you can download a sneak peak at the 2012 calendar.  They will be having plenty of workshops on butterflies, plant propagation, and other gardening next year.  Join in the fun with a discounted membership today.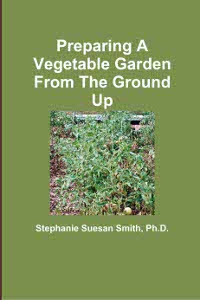 For more help gardening, buy my book, Preparing A Vegetable Garden From The Ground Up

Available in print or ebook from Amazon.com or other retailers, this book walks you from choosing the site of your garden all the way through what to do after the harvest. Buy a copy for yourself or a friend today!
---