Did you know armadillos can gallop? I didn't either. I had only seen them move slowly across the road in an attempt to get hit by whatever car they walked in front of, usually mine.  I try not to hit animals, but sometimes armadillos seem to make it hard to avoid them.
However, one night I let my puppy out later than usual.  My seven month old puppy is 60 pounds, so we are not talking a small dog here.  She immediately signaled that she sniffed something interesting and that it was alive.  Visions of skunks and skunked dogs made me make sure the front door was firmly closed behind us.
Fortunately, it was not a skunk.  This armadillo galloped toward the hole in the skirting of the mobile home to get away from the puppy.  It was close, but the armadillo beat the dog by a hair.  I was glad because I didn't want to referee that fight — armadillos have powerful claws for digging and could hurt the puppy, especially since doggy teeth don't penetrate armadillo armor well.  At least, coyotes have problems doing so unless they can get at the unarmored, vulnerable underside of the beast.
That armadillo escaped unharmed.  Others are not so lucky.  All you have to do is drive down a highway in the spring and the roads are littered with dead armadillos.  Someone hit one near my house once.  After it dried in the sun, one of my dogs who is now deceased brought it home.  She walked into the house while I was on the phone.  I said to the person I was talking to, "I will have to call you back.  Queenie just brought a dead armadillo into the house."  I was done talking anyway, so there.  I did remember to use the shovel to get the thing out of the house without touching it, since armadillos carry leprosy, but the ground was too hard to bury it and there was a burn ban on, so I had problems putting it somewhere the dogs would not just retrieve it.  I think I finally weighted it down and tossed it in the pond, where it sank.
Armadillos used to be the size of a Volkswagen bug.  I shudder to think of hitting one of those with a car.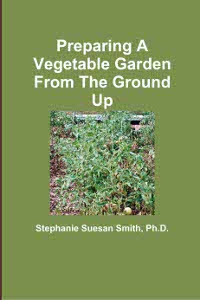 For more help gardening, buy my book, Preparing A Vegetable Garden From The Ground Up

Available in print or ebook from Amazon.com or other retailers, this book walks you from choosing the site of your garden all the way through what to do after the harvest. Buy a copy for yourself or a friend today!
---