I am not big on gurus. I think they are usually egotistical jerks who might know something, but are more into power than helping their followers grow. In contrast, mentors share knowledge freely and are proud when the people they are mentoring surpass them. Gail from Growmap is a mentor. She is also up for an award as a Small Business Influencer and could use your vote.
Gail works with small businesses to help them effectively market themselves on the internet.  Pace Lattin did a very nice two part interview on her that explains what she does.  You can find it here:
Gail Gardner and her Map to Small Business Growth: Interview Part I
Gail Gardner and Her Map to Small Business Growth: Interview Part II
In addition, Vernessa Taylor wrote about the effect Gail has on small businesses and bloggers who work with small business in her article, Who helps you map your path? Grow your business?
These articles give you a general overview of what Gail does.  They do not quite cover everything.  Gail helps lots of people.  She envisions herself as the hub of a vast wheel with many spokes.  When small business, the rim of the wheel, needs information or expertise, she directs them to the appropriate spoke for their need.  Sometimes she can help them.  Sometimes she refers them to a particular person who can solve their problem.  Sometimes, she assembles an ensemble of experts to attack the problem.  In almost all cases, however, if the small business follows the game plan she devises, or the experts she assembles devise, their bottom line improves.
That is all very interesting, especially to businesses, but it has been covered before.  What I want to talk about is the experience of being one of the spokes.  Now, I do not flatter myself and think I am a major spoke, but a small, thin one that is trying to learn.  I met Gail, online, late last spring when I entered a blogging contest.  I was using QuickBlog on GoDaddy.com, and I had no idea what I was doing.  I entered to learn more about blogging.  I ended up moving my blog manually from GoDaddy.com to a self hosted WordPress blog one weekend in the middle of the contest because I could not do some things with my blog other people could with WordPress.
Gail offered to help anyone entered in the contest if they asked her.  I asked.  I learned about blogging platforms, plug-ins, seo (I knew a surprising amount of that from my psychology marketing classes), bad neighborhoods, links, spam, and all the millions of things that make up blogging.  I also gained a mentor and friend who has continued to teach me about how to do this thing we do.  I even came in 9th in the contest, which got me a bit of prize money.
Someone commented that Gail has legions of bloggers and experts that are slavishly devoted to her.  I think that sounds like she is a guru, expecting people to jump when she says frog instead of thinking for themselves, so I reject that characterization.  What she does have is a huge group of people who she has mentored and taught a great deal of what they know.  When she asks for help, this group of people respond.  I certainly do.  That is leadership, not guruism.
Gail is up for an award at Small Business Advisor: News category.  It would be nice if she won.  She certainly deserves it.  Vote for her if you can.  It is appreciated.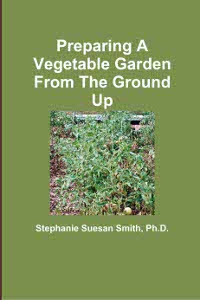 For more help gardening, buy my book, Preparing A Vegetable Garden From The Ground Up

Available in print or ebook from Amazon.com or other retailers, this book walks you from choosing the site of your garden all the way through what to do after the harvest. Buy a copy for yourself or a friend today!
---