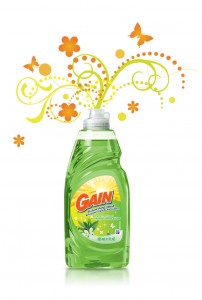 The part of putting up the bounty of my garden I most hate is the clean up afterwords.  It seems that every dish and pot I own is dirty, along with an incredible amount of the kitchen.  Maybe you are not as messy as I am, but everyone has dishes to clean.  Gain recently released Gain® Dishwashing Liquid.  P&G, Gain's parent company, sent me a bottle of original scent dish washing liquid, three large t-shirts, and three $5 Wal Mart gift cards through MyBlogSpark.com so I could try the dish washing liquid and host a giveaway.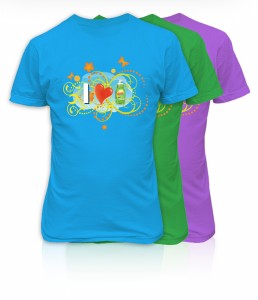 I will tell you how two readers can win a t-shirt and $5 Wal Mart gift card to try Gain Dish Washing Liquid themselves after my review.  First, what scents do they have?  The original is lemony to me, while the three other scents are lavender, citrus splash, and apple mango tango.  I purchased lavender at Wal Mart, but was not able to find the other two scents a month ago when I looked.
I am bad about putting dirty dishes in the sink without washing them out first, then leaving them until I run out of dishes to use before washing them.  That means caked on and dried food.  Ugh.  Gain was able to soak the dried food off of the dishes with a minimum of scrubbing, so met my number one criteria for a dishwashing liquid.
My number two criteria is whether the smell of the soap makes me sick.  I am allergic to a lot of fragrances and so that is pretty important.  I found the smell of both the original and lavender scented products to be pleasant.  It did not make me sick nor was it too strong.  The sink area smelled pleasent but the whole kitchen didn't smell of fragrance.
Overall, I liked this soap.  The only quibble I have is that the lavender scent has a slight artificial quality.  However, I tend to be picky about such things.
To buy:
Gain Dishwashing Soap, try any grocery store or Wal Mart.  It is with the other dishwashing liquids.
To win: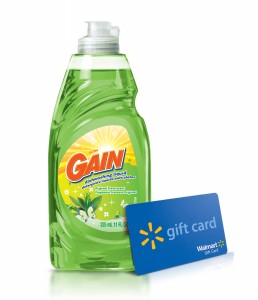 a large size  "I Love Gain" t-shirt such as that in the picture above, and a $5 Wal Mart card to purchase your own bottles of Gain Dishwashing liquid, leave a comment with your email address below.  No email address, no way to reach you if you win, so don't forget it.
The fine print:
U.S. only, entries end 11:59 pm CST Friday, November 12th, 2010, two winners picked using Random.org on or about November 13th, 2010.  Winners have 48 hours to respond with a mailing address or another winner will be chosen.  Not responsible for lost or mutilated entries or prizes.
FTC Stuff:
I received three t-shirts, one bottle of dish washing liquid, and three $5 Wal Mart gift cards from MyBlogSpark and P&G so that I could review the product and conduct this giveaway.   My opinions are my own.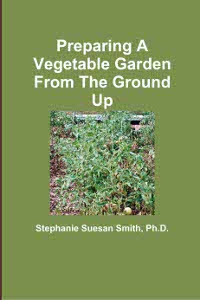 For more help gardening, buy my book, Preparing A Vegetable Garden From The Ground Up

Available in print or ebook from Amazon.com or other retailers, this book walks you from choosing the site of your garden all the way through what to do after the harvest. Buy a copy for yourself or a friend today!
---