Garden bloggers, and their readers, are way behind the curve right now.  Mommy bloggers have organizations, PR firms, contests, and sponsors.  Garden bloggers do not have any of that stuff.  No one beats down our doors asking us to test gardening products or host contests for sponsors.  Well, it is time to change all that.
One way is to visit each other's blogs, leaving comments that add something to the conversation.  When such comments are left on our own blogs, we should not only reply to the comment, but visit the blog of the person and leave a comment there.  As this cycle continues, our page rank will increase and we will come to know who is helpful and who is not.  PR firms are very sensitive to page rank and soon will come calling.  Often, though, they come with products more suited to mommy bloggers, such as diapers and sippy cups, than to gardeners.  We must resist the urge to try and force those things into our blogs.  I have been guilty of it, too.  But it doesn't serve our readers or our sponsors.
Another way to get organized is to get some help.  There are lots of marketing "experts" around that will take your money and give you nothing but regurgitated pap for it.  Avoid those people.  Conferences are helpful because people are much less likely to give you garbage when you are right there in front of them.  Panels with people from different perspectives and employers are ideal because you get a more balanced view of things.
Yes, mommy bloggers have wonderful conferences.  You will learn something about the mechanics of doing a blog and reaching your audience there.  You will also stick out like a sore thumb.  Marketing people really know how to reach an audience and organize a group of people into something like a chamber of commerce, but online.  After all, if they do not reach their audience they do not make money.  Hunger is a powerful motivator.  These are the people we want to emulate.
There is a series of marketing conferences, called social media events by the marketing nerds, being run by Murry Newland right now that targets people like us.  Each conference covers one topic from different perspectives.  At the end of the day, you pretty much know everything important about that topic.
There are three conferences a month, rotating cities.  The ones for September are:
San Francisco – 17th Sept 2010 "Social Email Marketing (San Francisco) offers expert-led guidance on how to engage with customers via email and social media, including tips on how to maximize the impact of your campaigns, insights into new tools and services, how to monitor and measure the results, and trends to watch out for. Speakers include Brian Solis (FutureWorks), Mark Schmulen (Constant Contact) and Kristin Hersant (StrongMail)".
London – 20th Sept 2010 "Social Media Advertising (London) will bring together leading brands, agencies and marketers to discuss the latest tools and techniques for running integrated social media advertising campaigns. How can we combine social media engagement with an effective advertising presence? Which are the best networks to advertise on? How can we maximize and measure ROI? Speakers include Matt Atkinson (EHN Brann), Peter Crosby (Viadeo) and E.J Garcia (Purple, Rock, Scissors)."
Miami – 30th Sept 2010 "Social Media Marketing & Advertising (Miami) will bring together digital marketers and brands to discuss the latest tools and techniques for running effective social media marketing and advertising campaigns. Speakers include Evan Weber (Experience Advertising), Ian Fernando (IANternet Media) and Murray Newlands (Influence People)".
If you can attend any of these, they will help you in your marketing skills.  Think of it as learning how to teach gardening to your readers in a way they can better understand.  Isn't that what the best teachers do anyway?
If you go to the website you can type in "iem10" when you book your ticket to get a 10% discount.  I get a 10% referral fee.  We both win.
FTC Disclosure:  The discount code to buy a ticket is one of those nasty affiliate things.  You have been warned.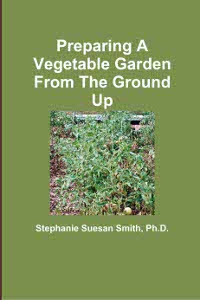 For more help gardening, buy my book, Preparing A Vegetable Garden From The Ground Up

Available in print or ebook from Amazon.com or other retailers, this book walks you from choosing the site of your garden all the way through what to do after the harvest. Buy a copy for yourself or a friend today!
---