I volunteer at the Extension office about once a week.  Sometimes I take pictures in our demonstration garden before I go inside.  Mornings are good times to take pictures because it is not too hot and the insects are still active.  I have been taking these pictures for several years.  Mostly I put them on my photography blog.  This is because they are mostly ornamentals, not vegetables.
It is, however, possible to track the evolution of your garden through photographs.  Take pictures of each part of the garden through the seasons for a year.  Look at the photographs in order and see what does well, when things bloom, when they die back, and generally how they are doing.  Then you can make decisions on what to yank and what to keep.  It also helps you remember where you are in your crop rotation for your vegetables.
After several years of photographing the garden for this purpose, I have picked the best photographs to put into a video.  I hope you enjoy the Plant Portraits from the Heritage Garden of Hunt County.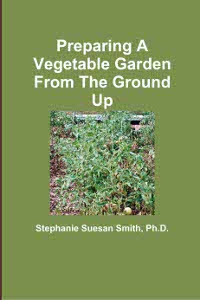 For more help gardening, buy my book, Preparing A Vegetable Garden From The Ground Up

Available in print or ebook from Amazon.com or other retailers, this book walks you from choosing the site of your garden all the way through what to do after the harvest. Buy a copy for yourself or a friend today!
---