I have yet to meet a gardener who did not want to display his or her garden's best show for visitors year round.  Plants don't stay at their peak, though, so we take pictures to show people.  Printing those pictures can be expensive.  Smile Books can help.
Smile Books produces soft and hard cover books of your photographs.  They provide the software and you provide the photos.  A match made in heaven, huh?  To make it even better, they are offering everyone a free photo book.
I was asked to review Smile Books.  I admit I was skeptical, as I have high standards.  I did not like having to download software onto my computer, but it made creating the book fairly easy.  I did have some frustrating moments when trying to move photos and figuring out all the ins and outs of the system.  However, in about an hour, including picking out the photographs for the book, I was ready to upload my book.
Uploading took around 25 minutes.  The program said it would take that much time.  That seems like a long time, but I uploaded a book trailer to YouTube and it took 25 minutes, too.  There is then a screen asking for $7.99 for shipping and handling.  Once that is paid, the book order is submitted.
When I got the book, I was really impressed.  It looked like a book you would buy from a bookstore.  My photographs were reproduced well and my name and the title I chose for the book is on the front cover.  It was well worth the $8 bucks.  For a portfolio, a birthday gift of the photos of grandchildren, weddings, the birth of a child, and other special occasions, it would be nice.  I plan to use mine as a portfolio.
There are options from $9.95 plus shipping and handling up to very expensive.  It would depend on the occasion how much you wanted to spend.
Bottom line:  Try the free photo book, knowing you will be charged $7.99 shipping and handling.  The results will give you an idea of whether you want more books.  You can order more of the one you just made or make another one, but you only get the one free photo book.  However, they have options for less expensive products, or way more expensive products, so you should find something you like.
FTC Disclosure:  I was given a code for a free book.  My opinions are my own.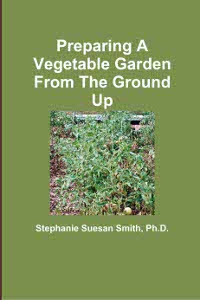 For more help gardening, buy my book, Preparing A Vegetable Garden From The Ground Up

Available in print or ebook from Amazon.com or other retailers, this book walks you from choosing the site of your garden all the way through what to do after the harvest. Buy a copy for yourself or a friend today!
---