Vegetables are water hogs.  To produce the produce we eat, they have to use a lot of water.  When there is a drought, with watering restrictions and little supplemental rain, it becomes hard to give them all the water they need.
First, try hard to use drip irrigation.  Sprinklers can waste 40% of your water due to evaporation.  That is bad when water is plentiful, but is just not acceptable when water is scarce.  A soaker hose is an alternative if you cannot use drip irrigation.  Soaker hoses are not as efficient, but are cheaper.
During a drought, you need to change how you plant so you can make the most use of every drop of water.  Instead of planting rows, plant blocks of vegetables.  Water doesn't need to travel as far and is used by all the plants in the block.  Plant intensively to get the most out of a small space.
Plant only what you can use personally.  While it is nice to have a huge garden and supply the neighborhood with produce, it isn't practical in a drought.  Instead of planting all the seeds in a packet, plant half or a quarter.  Pinch off the weak plants and only allow the strong to continue growing.  Poorly producing plants should be yanked early to cut your losses.  Think about the return for your water investment and cull accordingly.
Finally, when plants stop producing well, yank them.  Watering a plant to get one last tomato or pepper is a waste.
Remember that water is a finite resource.  Rainwater doesn't refill the aquifers, it stays up near the surface.  When the aquifers are drained, they are gone for good.  We need to make them last as long as possible, so use water wisely.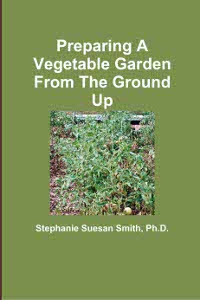 For more help gardening, buy my book, Preparing A Vegetable Garden From The Ground Up

Available in print or ebook from Amazon.com or other retailers, this book walks you from choosing the site of your garden all the way through what to do after the harvest. Buy a copy for yourself or a friend today!
---