I do not know if your Dad is like mine, but he is a carry-me-in-on-my-shield kind of guy.  He insists my Mom and my sister and I take care of ourselves, but would rather die than go to the doctor.  Unfortunately, too many men DO die because they refuse to get the preventative health care they need.
Groups have worked hard to get women to get mammograms, pap smears, and the various preventative tests we need to stay healthy.  Now the U.S. Department of Health and Human Services' Agency for Healthcare Research and Quality (AHRQ) has teamed up with the Ad Council to target Dads.  You can help.  Everyone has a man in their lives that is middle aged.  A father, brother, husband, cousin, in-law, beloved friend.  It doesn't matter.  If they have a Y chromosome, are middle aged (30-60 or so), and you care about them, this is what you can do for them.
Send an e-card for Father's Day to them that talks about getting the preventative care they need so they can stay strong to be there for you.  Here is what it looks like: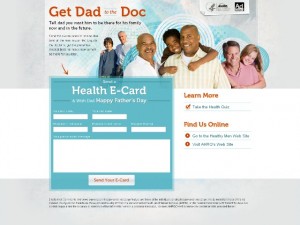 The card is free.  You can also ask the men in your life to take the health quiz the e-card mentions.  This works even if Father's Day cards are not something you would send this particular man (think brother, in-law, cousin, friend).  Here they can also find tips for talking to doctors, a glossary of consumer health terms, what preventative tests are needed at what ages, and links to online research for more information.
There will be public service announcements about this issue on television, the radio, and other places.  Use them as a way to open a conversation about this topic.  National Men's Health Week is June 14-20 and there will be a lot of these PSAs then.  You can go to www.ahrq.gov/healthymen to get more information, too, even if you do not have a Y chromosome.  Because everyone has a man who has touched their lives.
FCC Disclosure:  I was asked to do this post and offered a chance at winning a gift card as an incentive.  I would have done it anyway, because I love my Dad.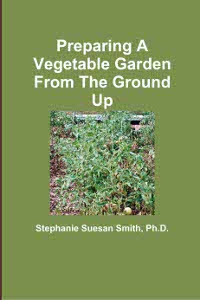 For more help gardening, buy my book, Preparing A Vegetable Garden From The Ground Up

Available in print or ebook from Amazon.com or other retailers, this book walks you from choosing the site of your garden all the way through what to do after the harvest. Buy a copy for yourself or a friend today!
---