Even though it is officially winter, the weather in North Central Texas is supposed to be fantastic this week.  Since onion planting is about two weeks away, now is a good time to get your garden ready for spring.  While those of you further north are not quite ready for this yet, the steps are the same so you can follow along, then put them into action when the time comes.
First, if you have not cleared away any dead plants from the fall, get them out and on the compost heap.  You want to start with new plants except for the things that overwinter, such as garlic, strawberries, and asparagus.  If it is dead, get rid of it!
Second, you want to till under any compost and cover crops so they can be enriching your soil.  Ideally, you would till the soil to a depth of six inches.  This loosens the soil so root crops can grow well and distribtes the compost well throughout the soil.  When the summer heat and the dry weather comes, this compost will help retain moisture in the soil as well as keep it from compacting into concrete.  If you have not spread compost over your garden, you want to add three inches now and till it in good.
Lay out your rows and plow them.  Make sure there are no big clods and that the area is free of grass and weeds.  You cannot put per-emergents down in the garden because they would keep your vegetable seeds from growing, so you have to be vigilant and keep the weeds from taking advantage of your nice, fertile garden area.  Pull weeds rather than chopping them to ensure they do not grow back.
At this point, you have strawberries, garlic, and asparagus still covered with straw against the winter chill.  The rest of the garden is tilled and plowed in anticipation of planting.  Let the soil rest for a couple of weeks now.  The middle of January is the best time to plant onions in this area, and spring gardens go in the first part of February.  All you will have to do then is make a small furrow on the top of each row to plant in and you will be ready to grow your garden.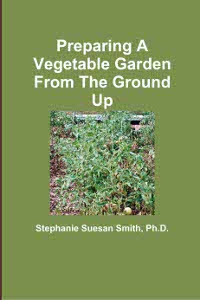 For more help gardening, buy my book, Preparing A Vegetable Garden From The Ground Up

Available in print or ebook from Amazon.com or other retailers, this book walks you from choosing the site of your garden all the way through what to do after the harvest. Buy a copy for yourself or a friend today!
---